Janesko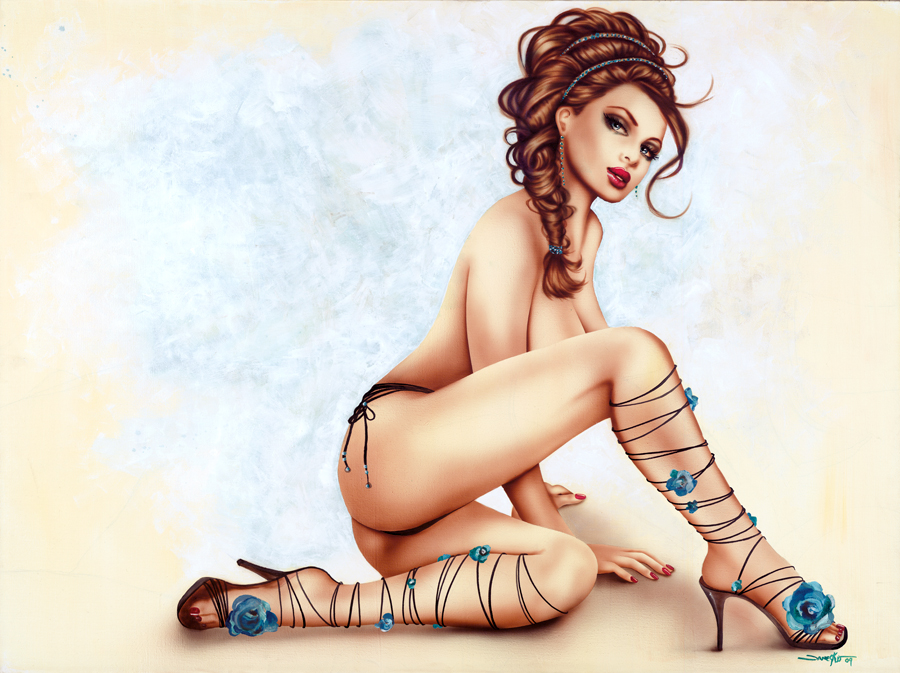 We are thrilled to have the talented Jennifer Janesko as our artist feature.  Capturing the beauty of women where gorgeous sex appeal meets stunning artwork.  I love the style a woman brings to pinup art, sexy can be classy, artistic and beautiful without going too far.  Janesko teases you just enough to keep you coming back for more.  Taking her images to the next level, Janesko has expanded into custom Gibson Guitars, Haut Wine Labels and Zippo lighters.  Keep it coming Jennifer, we want more!
FIND HER:  WEB / FACEBOOK / TWITTER
CHECK OUT:  2013 CALENDAR
Meet the talented JENNIFER JANESKO:
The female form has been the focus of the art created by Jennifer Janesko since she was very young. After earning a degree in fashion design she immediately launched an art career, focusing on fashion illustration. During the same period, she developed a collection of stylized pinup images that continue to be displayed in galleries around the country. The artist gained additional recognition when her art was featured in popular magazines such as Maxim and Playboy as well as appearing in feature films, national television shows and international publications.Janesko has redefined the term "pinup" art. Her focus lies in developing the glamorous yet edgy side of pinup but with a great respect for her subject. "In a way I am able to live out my desires and dreams vicariously through my subjects," says the artist.
Her love for fashion has inspired Janesko to return to her fashion roots and concentrate on an accessory line for other forward thinking females. This line, eponymously entitled JANESKO, is set to launch with contemporary jewelry designs, modern handbags and stunning shoe creations. Janesko believes that creativity crosses all boundaries. Admiration for music, fashion, travel and even culinary pursuits are all connected.
The artist is driven to pursue unique and creative projects that bring together the people who appreciate the arts in all forms. A series of original wine label images for Haut Art Wines of Napa, California was a recent venture into the culinary arts. She is also exploring her love for music with a series of one of a kind custom painted Gibson Guitars.
Janesko reaches collectors around the world through her website and through various exhibitions. New and established collectors are now able to enjoy Jennifer's work through published books, calendars, postcards and prints.
Cheap car insurance is out there, you've just got to make sure you're looking in the right places and for the right things. If you're a younger driver, think about getting a black box installed if you really want your premiums to drop.