About 53deluxe
Dream it, Build it, Become it.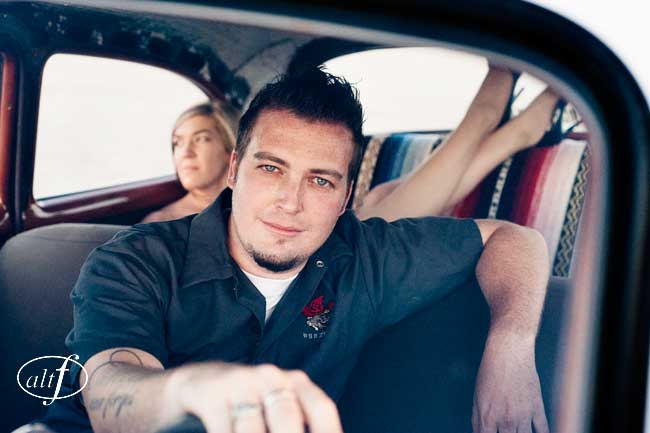 53deluxe is the Master Mind Creation of Todd Merrick. Artist, Industrial Designer, Fabricator, Photographer, Web Designer & Lover of anything with 4 wheels and a motor. I can't forget my gravity in the back seat. Crystal, she's the brains of the operation and I wouldn't mess with her unless you want a 5″ stiletto to the jaw. She may be small, but she's the strongest, hardest worker I know and shes on my team

  We started 53deluxe and we are going full throttle, never looking back.
Todd: Born and raised in Hoboken, New Jersey. Growing up in Hoboken, I should have worked for Tony Soprano…but I lucked out and grew up obsessed with fast cars. I have been into cars since I could walk. I painted anything I could get my hands on. My mom came in the room to find that I had painted my fisher-price yellow and red pedal car ,with a whole can of gold spray paint! (As pissed as she was then, we now look back and laugh at the foreshadowing of my future.) I painted all my matchbox cars and couldn't walk by the toy store without having an Ertl model car to build. Everything had whitewalls, it didn't matter what year it was…yes, even 80's Camaros. It started young and I have never gotten away from it. The first car I remember riding in was my grandfathers Cadillac. It was one of my favorite things to do as a little kid, because I think he liked driving the car as much as I liked riding in it. My grandfather, the "Cadillac Man" as my grandmother called him, owned 53 Cadillacs in his lifetime. Hmmm, 53 that number sounds familiar.
I got older and wanted to go to school for Automotive Design, but Furniture Design was also of interest to me. I went to Pratt Institute for Industrial / Transportation Design and Columbus College of Art and Design for Furniture. While in college I worked at a hot rod shop in Ohio and after college we decided to move the shop to Vegas, where Sin City Kustomz was born. I designed a few SEMA cars for clients and big name companies (Mickey Thompson) and also did a lot of back breaking work on them. From body work to paint to assembly and interior. We worked our asses off and had a hell of a good time. We learned a lot and built some really cool cars in the short time our team was together. Like anything, good times don't last forever and the shop couldn't make it in our great economy.
After Sin City Kustomz closed in 2007, I went to work for Marnell Corrao Architecture designing for a new Hotel (M Resort here in Vegas.) Utilizing my furniture design degree and actually seeing my product designs, not only come to life, but reside in a Vegas Property was truly something.  However a creative mind is most fulfilled in a creative hands on environment. That being said, I currently work for Count's Kustoms here in Las Vegas with a talented group of automotive artists. Count's builds some of the finest bikes and hot rods in the world and I am very proud to be a part of such a great team of builders.
Crystal: Native Vegas Girl. UNLV Graduate with a hotel degree (what else do you study in Vegas, unless you want to become a show girl of course). Most common question people ask us natives is "what's it like growing up in Vegas?"…my best answer "I don't know any different."  I love this city and appreciate all it has to offer, there is life outside the strip.  I grew up racing around in my desert neighbor-hood on 4-wheelers and horses. Grew up around classics, my parents were in a car club…one of my favorite events as a kid was the poker runs that the car club put on!  My brother found my first car before I even had my license!  A lowered, single cab short bed, brilliant white, super fast Chevy Truck…I loved it! Not to mention a lot of guys seemed to gravitate towards it too, everyone always wanted to race it! – I never did dad so don't worry 😉  Although I am more of a "cheerleader type" rather then a wrench on a car kind of girl, I still appreciate a beautiful body (car body that is…) and a humming roar of a fast engine.  Todd being our creative edge, I am more of the organized, PR, networking socialite that genuinely enjoys people.
We share the interests that inspired this site, but we bring different views and ideas to the table.  We make a hell of a team, we compliment each others strengths and weaknesses. We hope you enjoy what our two minds have put together for your viewing pleasure!