Paricia Bee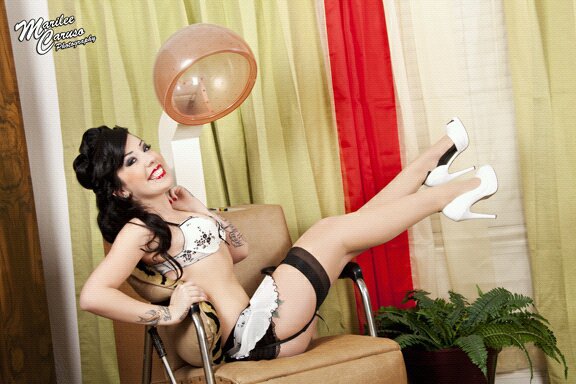 This week we have the sassy Paricia Bee as our feature pin-up.  Inspired by the art and music she is surrounded by and ready to experience anything with a open heart and welcoming smile.  Turning from fun in the sun tattooed pin-up to Tempest Vixen with a blink of an eye.
Bio: Pin Up model from the heart! I love everything about the culture from the hot rods, to the fast music & the amazing people and beautiful girls & style. I love to model, although I have not been doing it very long, I love being in front of the camera! Its a thrill for me and I absolutely love to have fun and laugh! I couldn't imagine doing anything other than pin up/alternative modeling! To me pin up embraces the woman's curves and its sweet sassy and sexy! Its a great feeling being apart of such a culture that I have always loved. I'm a tattooed vixen and a music lover. Anything rock n' roll gets me motivated! Music is my biggest inspiration for everything that I do. My favorite place to be is either watching a good band, roaming around a car show or embracing my inner homebody and staying home with a movie. I'm genuinely one of the sweetest girls you will ever meet, my main goal out of all of this is just to make more friends and experience life. You will never catch me with out my smile.
Find interesting products here: http://www.uvuperformance.com.
Find her here:
Facebook Fanpage:
Model Mayhem:
Twitter:
Pin up lifestyle