Artist Nathalie Rattner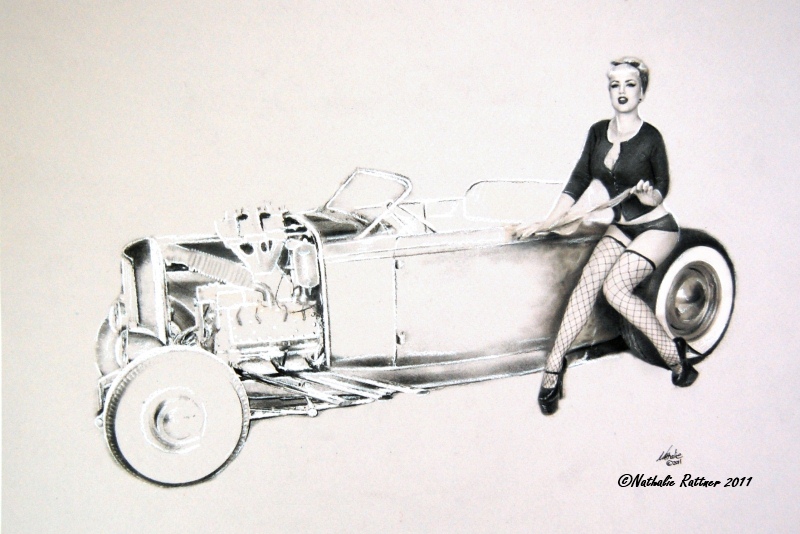 This week we bring you the amazingly talented Nathalie Rattner as  our feature artist.  Her art takes you to a place where glamour meets seduction.  Nathalie's work has a gorgeous realistic look which captures a snap shot in time.  The moment seizes and her creative mind pulls together a dynamic, beautiful piece of art.
BIO:  Nathalie Rattner is a highly versatile, award winning Canadian artist whose work has been sold to private collectors around the world. Her art has also been used in several commercial projects, and she has found this to be an exciting means of expressing her creativity. Throughout her career, she has been inspired by her love of life, history and the diversity of the world around her.
Her love of vintage movies, art, cars and music, which began early in her childhood, has greatly influenced the style and substance of her pin-up artwork.  Nathalie's intention is for her pin-up work to take her audience on a journey through the glamour and beauty of the 1930s, '40s and '50s, all the way up to the best modern day examples of the art-form.  With her unique method of combining shaved charcoal, graphite, dry pastel and watercolor with ink and airbrushing techniques, she is able to breathe distinctive life and energy into these classic pieces of art.
Nathalie is looking forward to her first solo show in Paris in 2012, for which she is creating a wide array of pin-up art, and to future commercial collaborations.
You can check more of her work out at http://www.nathalierattner.com/
Find More Nathalie:  FACEBOOK / PIN-UP LIFESTYLE