Triumph GT6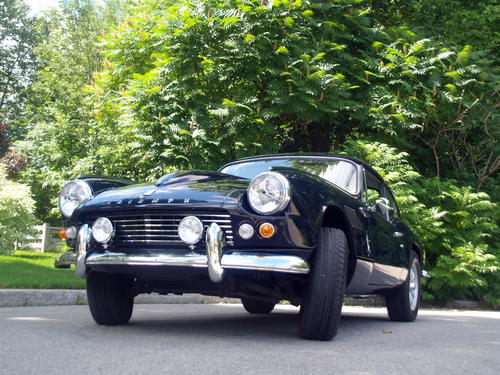 This week we have Louis Boudreault's '68 Triumph GT6 as our feature ride of the week. It's not your average hot rod and that's why we like it.
My Triumph GT6 isn't what one would call a traditional Hot Rod, but it might have been the equivalent of a Mustang fastback to some of our friends from the UK. I bought it in 2008 and back then, I didn't know much about car restoration. Since I've always been a vintage car lover, I started this project with lots of joy and motivation ! Finally, I would get to own a real classic from the '60s ! …well, lets just say that my enthusiasm has been put to the test many times during the past three years but in the end, it was well worth the effort.
The GT6 was born in the early sixties when Triumph raced at LeMans. In fact, the racecar was a Spitfire fitted with a fiberglass body shell modeled from a project car that was to become the Spitfire two doors coupe. That car was never produced because the four cylinder engine of the production Spitfire wasn't powerful enough to handle the extra weight of the steel roof and performances were disappointing.
Someone in the engineering department had the brilliant idea to fit that Spitfire prototype with a six cylinder from a weird looking sedan called the Vitesse and production of the GT6 was finally given the green light !
My car is a '68 model called the GT6 MK1. It has 55 000 miles on it and it's mostly stock, except for some minor improvements (Minilites wheels, modified rear suspension, electric fuel pump, etc.). It was repainted to it's original Royal Blue color after major bodywork. All the chrome is new and so is the interior. The engine runs great and it's still coupled with the original four speed, all synchromesh transmission. Although many British car fans switch to Webber or SU carbs, mine is still running with the factory twin Stromberg setup for now.
Now, the only thing missing is a nice picture of it with a cute pin-up. Maybe you could help?
Hey Louis, bring that car to Vegas and we'll get you a pinup to pose with it!