Bernie Dexter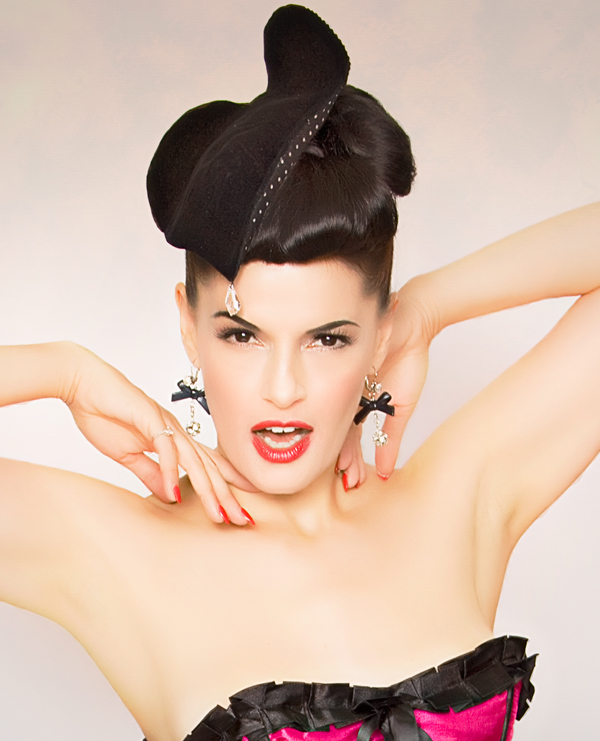 This week we bring you the beautiful and talented Pin-up Model and Fashion Designer Bernie Dexter.  We love the classic look that Bernie pulls off so flawlessly.  She has her own rockabilly style and such a keen fashion sense that captures an era.  Bernie's work shows a natural ability to bring you back in time to a vintage pin-up shoot in the 1950's when a beautiful classy woman was having a blast taking simple, sexy photos and embracing her sexuality.  To make her feature even more appealing, we were drawn in by her bio that reveals the root of her passion for pin-up, her mother…a burlesque dancer during our most fascinating era!
BIO:  My mother is from Oklahoma City and my father is from the Philippine Islands (now that I think of it, I am convinced this is where I get my curvy shape from). They met in the 1960's at a club when my father was on leave from the U.S. Navy. My mom was a dancer at the club he fell in love with her at first sight!  My mother became a burlesque dancer at the ripe age of 17, and as a kid I had no idea really what kind of dancing she did until I was rummaging through an old 1800's trunk she owned and found some old lobby cards that featured her! I never asked her about it as a teenager as I felt like it was her private, secret world, but I was intrigued as I found her so fascinating.
Even as young as five or six, I had started to stand by my mother's side for hours watching her do her make up & hair. She always used false eyelashes & everything! I was always fascinated with her transformation from girl next door to this sexy vixen! I remember trying on her high heel shoes when she would leave the room, so I guess the seed had been sown all the way back then.  My Mom…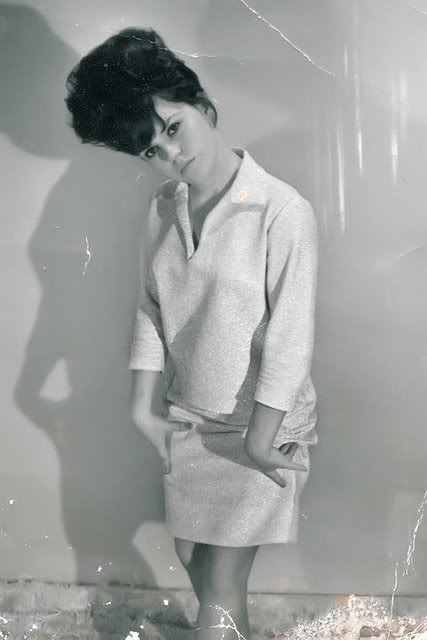 When I was not studying my mom, I was in front of the television fascinated with the family film festival on Sunday mornings. I loved watching the black/white and Technicolor films. The tap dancing was inspiring and the women so glamorous. I always wanted to be a Zigfield girl! As a consequence I begged my mom for tap dance lessons which I started at just five years old. I continued to tap dance for 10 years and also went through acting school. One of the highlights of that time was meeting John Caradine!
At 12 years old, my mom signed me up for my first beauty pageant. The pageants were great for learning poise & smooth walking and I ended up doing the pageant circuit until I was 18. That was the year I won 'Miss Teen San Diego County U.S.A. 1988. From there, I went to Miss Teen California U.S.A. where I was placed in the top 15.
The transition to pinup model: In 1991, I moved to Hollywood to try and model. I was signed with an agency right away, but found it impossible to get work. It was different back then; there was no internet so people could not really see what I was capable of.
So I decided to go to cosmetology school. If i could not be in front of the camera, I was would be happy being behind the scenes. I found it was easy for me to pick up hair dressing. The next thing I know, I am doing all my friend's hair & makeup before we would go out to night clubs. I really think studying my mom and all those movies paid off.
My first job after the schooling was in a salon on Melrose. I loved it so much! This is where I learned all about hair styling. At this time, I discovered the rockabilly scene and still love it to this day. The music and dancing, and of course the fashion style are all so exciting to me. The girls in the scene were not so friendly at first, so I would just go to shows alone & dance with whoever asked. Soon I made lots of new friends. One of these new friends told me about a make up artist position with M.A.C. Cosmetics. I was so lucky as I got the best training in the world there!
Click here to see the lighted makeup mirror reviews i have showed you in the last post.
Finally, I decided to freelance, and that is were all this pin up modeling comes in. I was working on shoots with a few pinup style photographers doing hair, make up, set design and wardrobe. I have had the privilege with working with some of the most beautiful women in the world. I have worked on Dita Von Teese (I did not know who she was at the time!), Holly Madison, and many many more!
Never in my wildest dreams did I think I would get a chance to be in front of the camera. However, one night it happened. Danielle Bedics needed a test model and I volunteered. There was defiantly some real magic in the room.
I submitted the photos to a pin up contest on the web and got a lot of great feedback. Tons of Job offers came flooding in! I was so afraid they would be disappointed when they met me, but nope, they were always thrilled!
I get asked a lot, "Why Pinup?": I simply love to dress up in 1940's and 1950's clothing and lingerie, whether it's genuine vintage or simply inspired from that era. I have been collecting clothes and accessories for as long as I can recall and I can even remember going to the thrift store with my mom when I was a little girl and sifting through everything to find amazing glamorous cat eye glasses & 1950s prom dresses! I even wore a pink 1950's prom dress & vintage pearled mules to my jr. high school sweetheart dance in 1983!
My knowledge has grown enough to where I just have an eye for it classic looks! Sometimes go around buying dresses & accessories only to find out that they really ARE vintage!
On top of all that, I have always been inspired by the women from the golden age of glamor to the Bizarre & Exotique. Putting all these factors together, it's not hard to see that classic pinup is where my heart lies.
Find more of Bernie:  berniedexter.com / facebook / twitter / model mayhem / myspace
Photography in this post by:  Levi Dexter / Eric LaGuarda / Monique Antoinette
Artwork by:  Nathalie Rattner
Where can I buy Bernie Dexter Clothing!!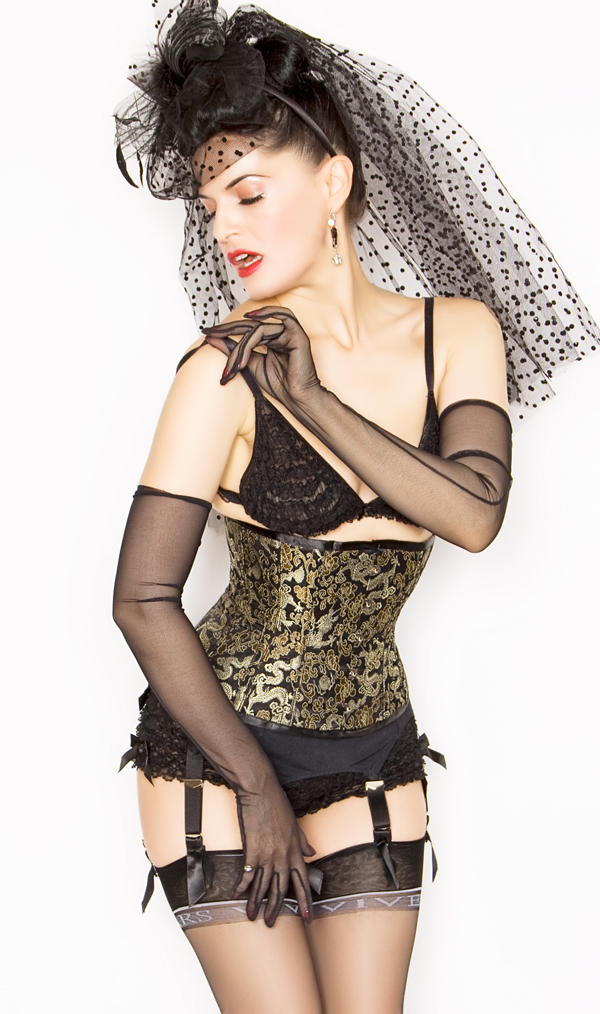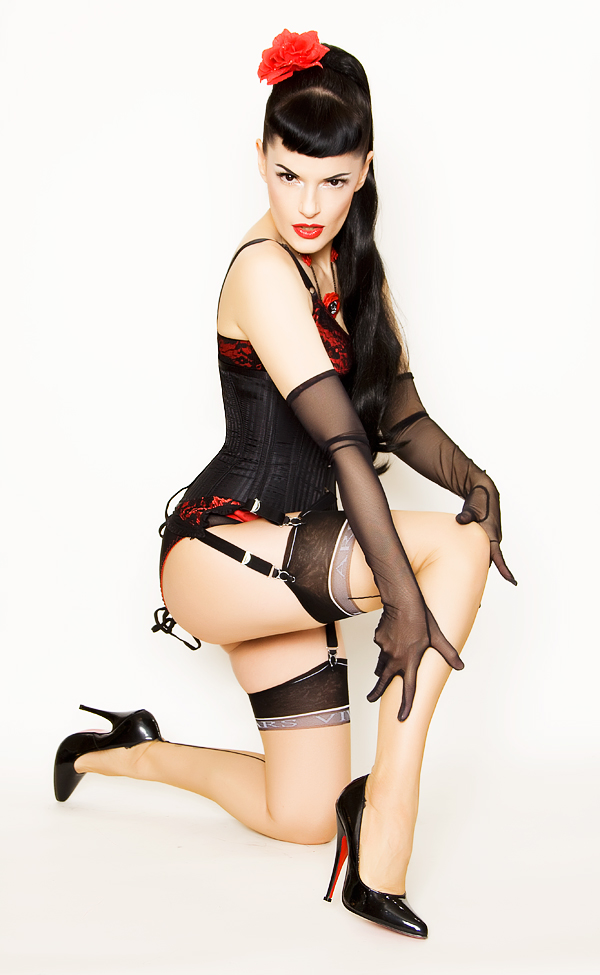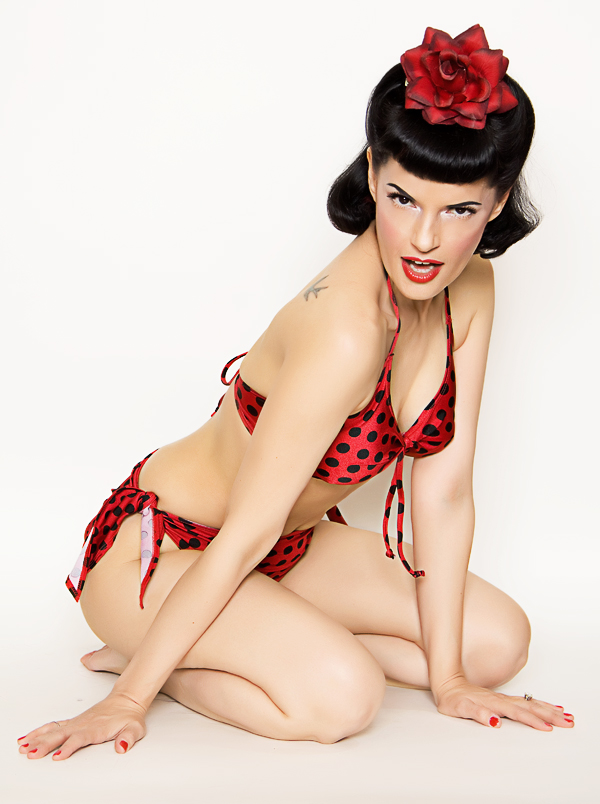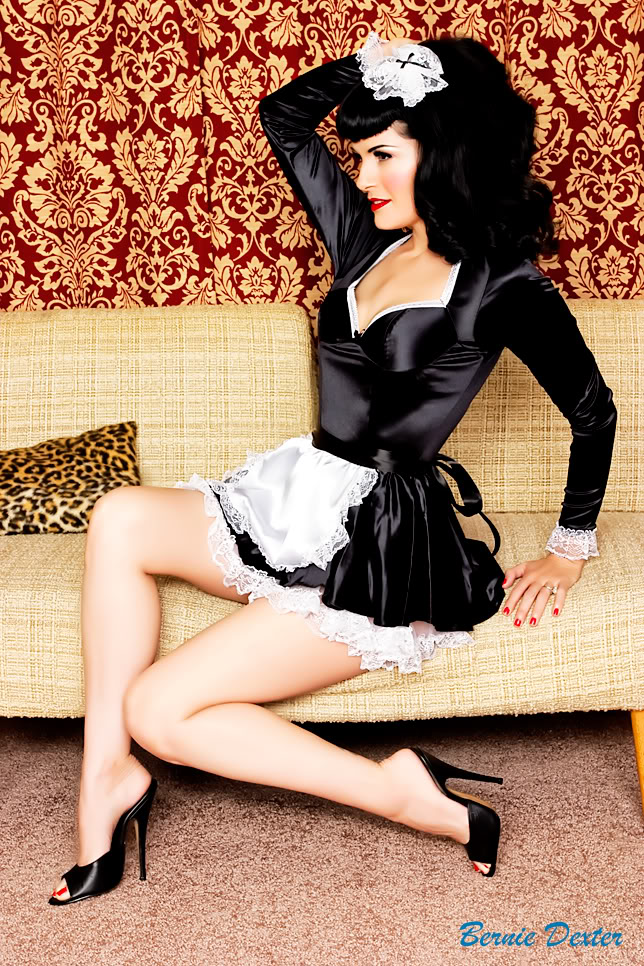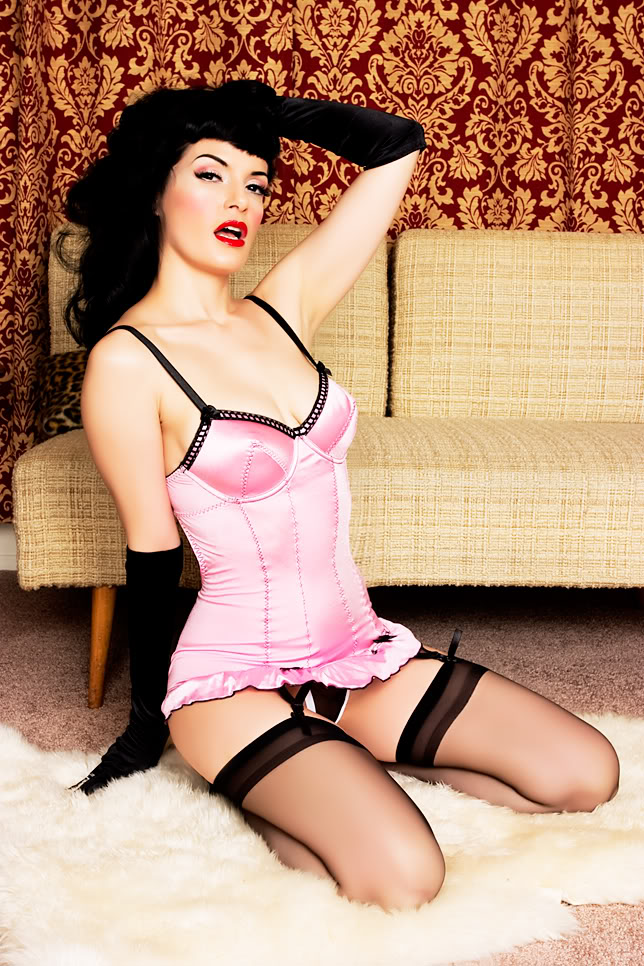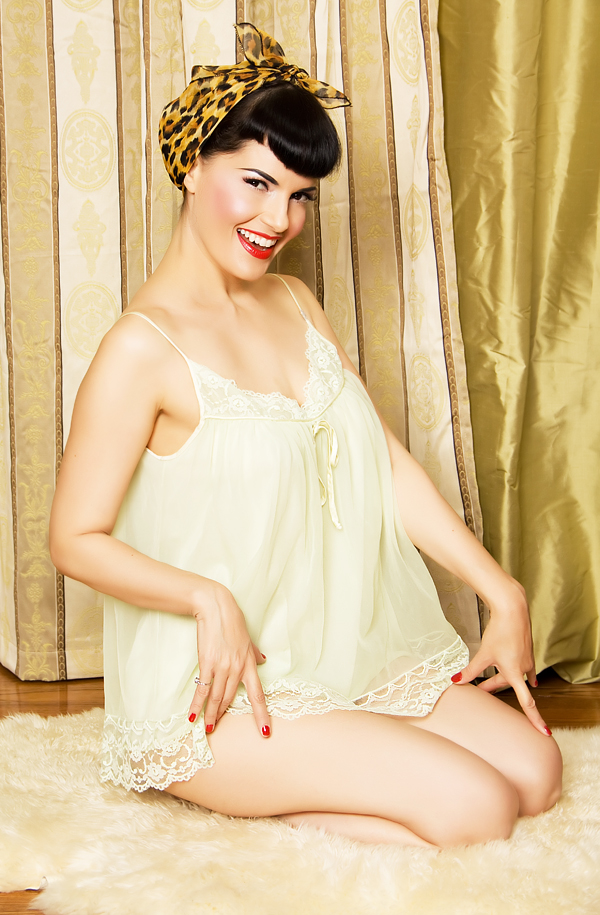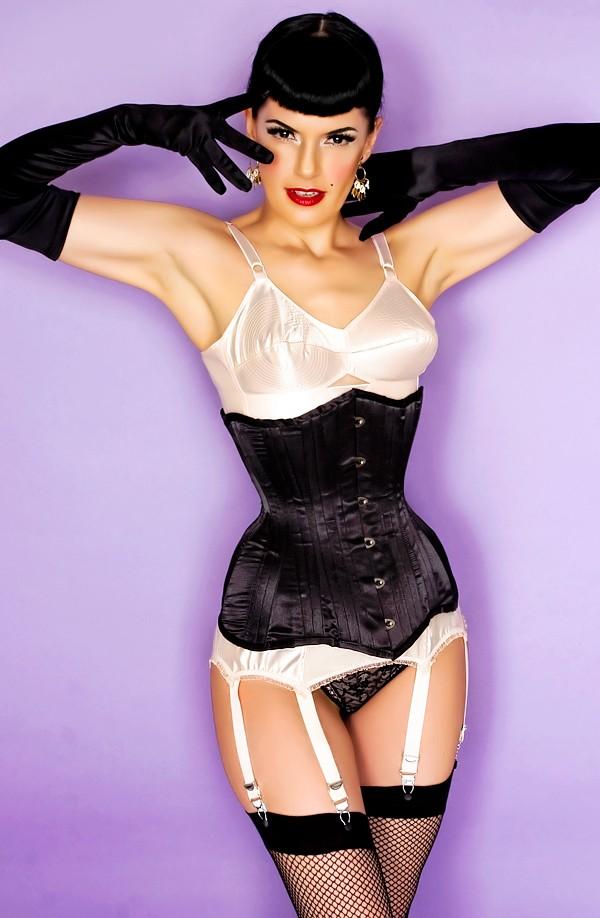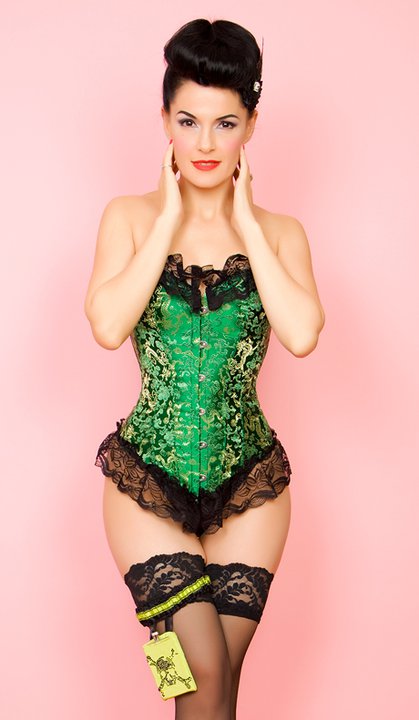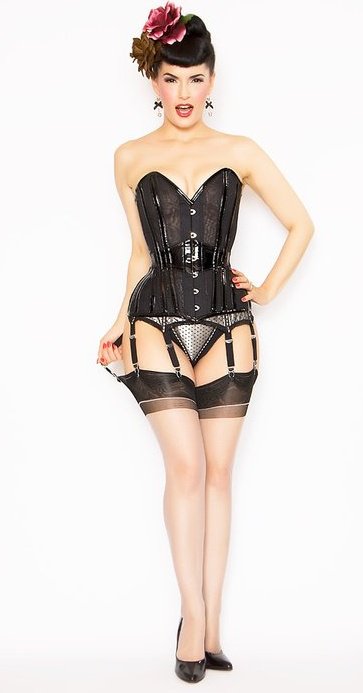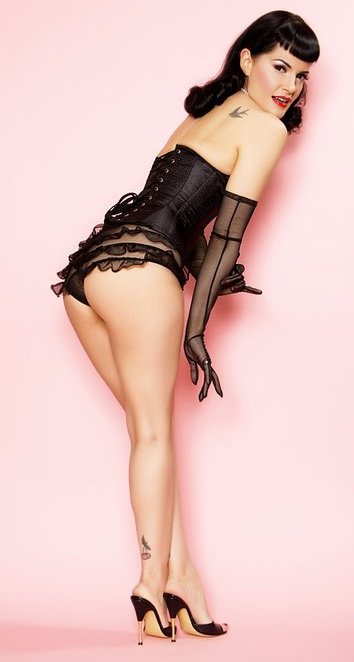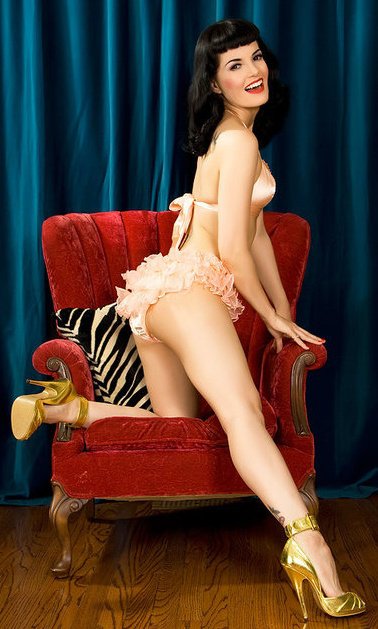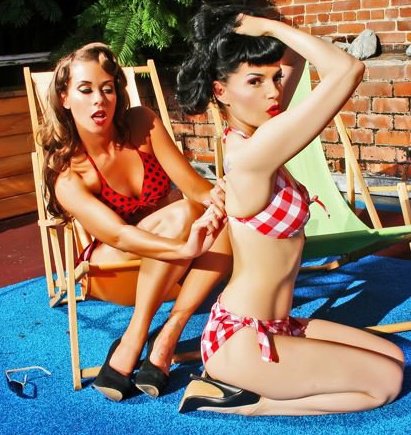 Photo above by Monique Antionette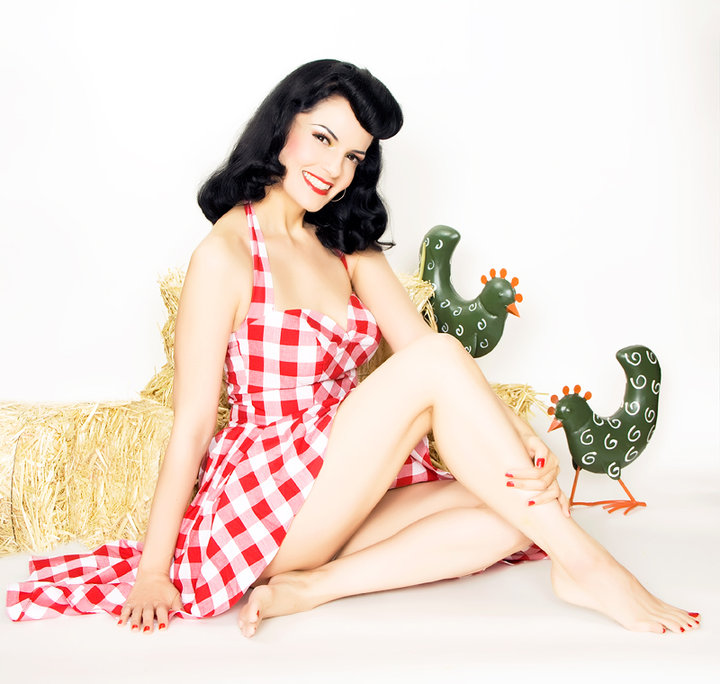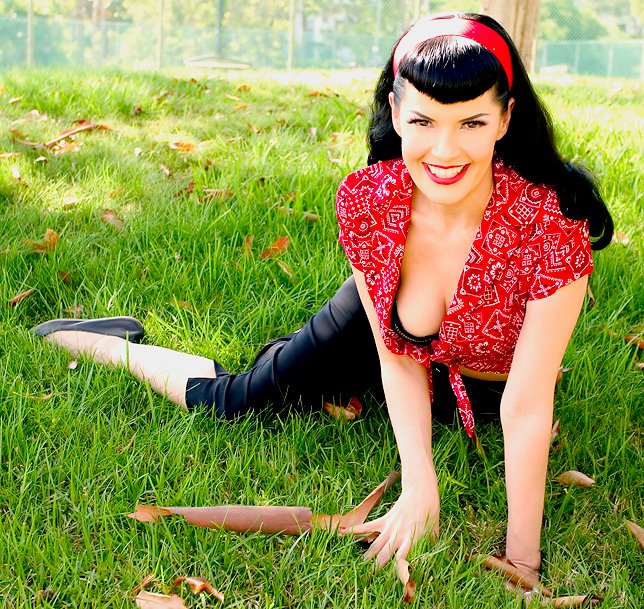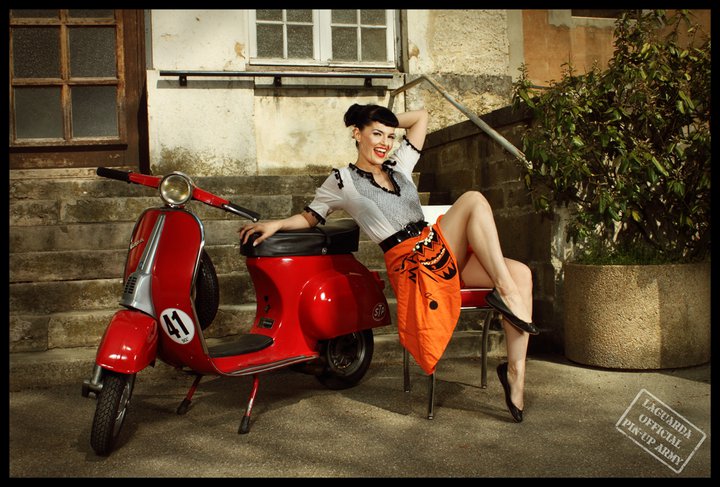 Photo above by Eric LaGuarda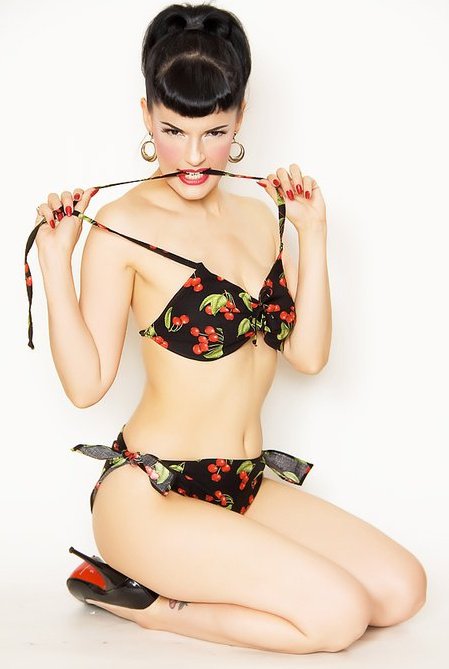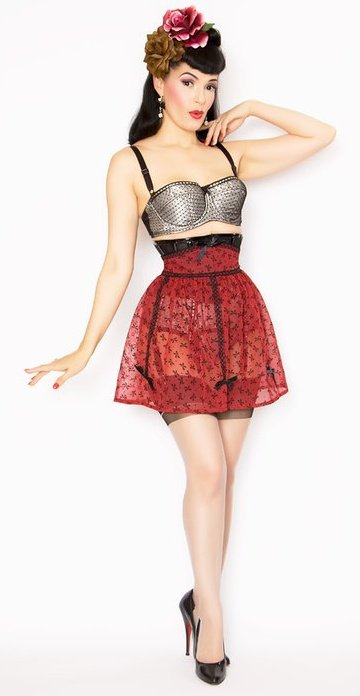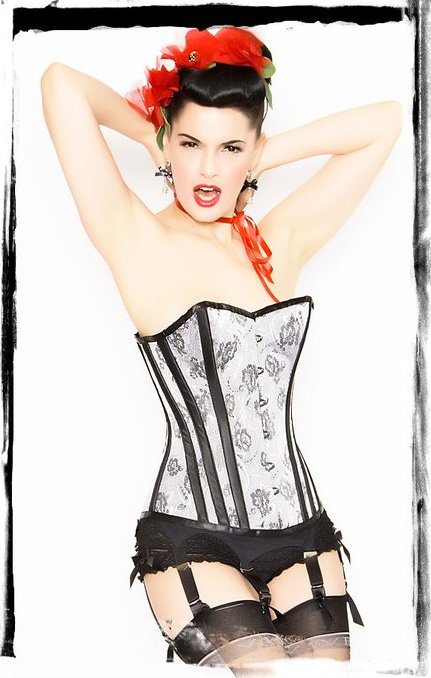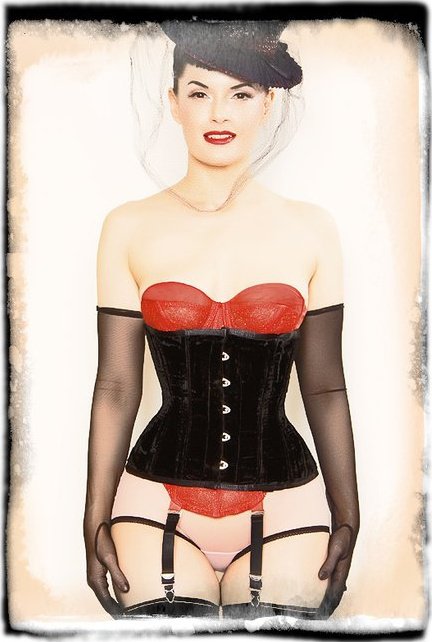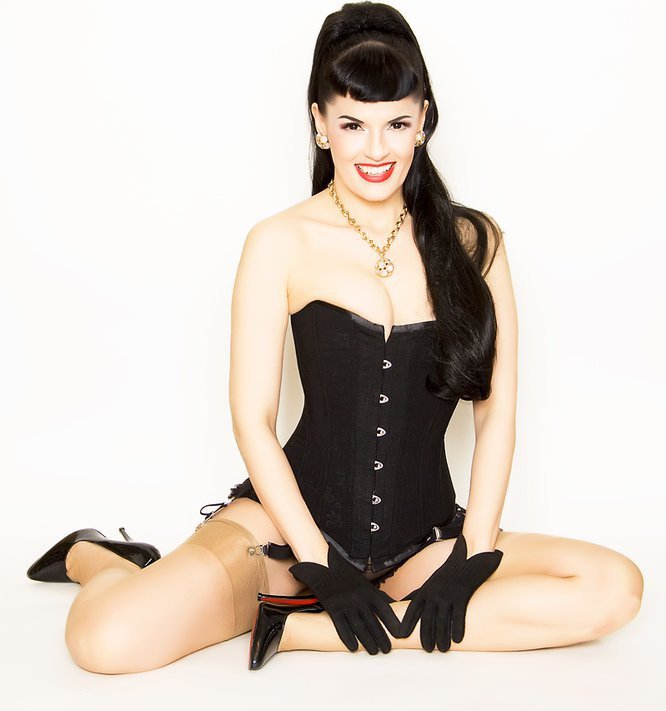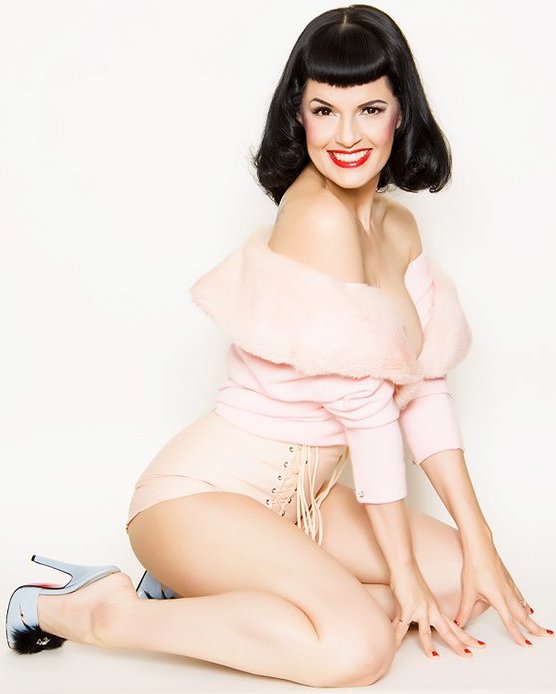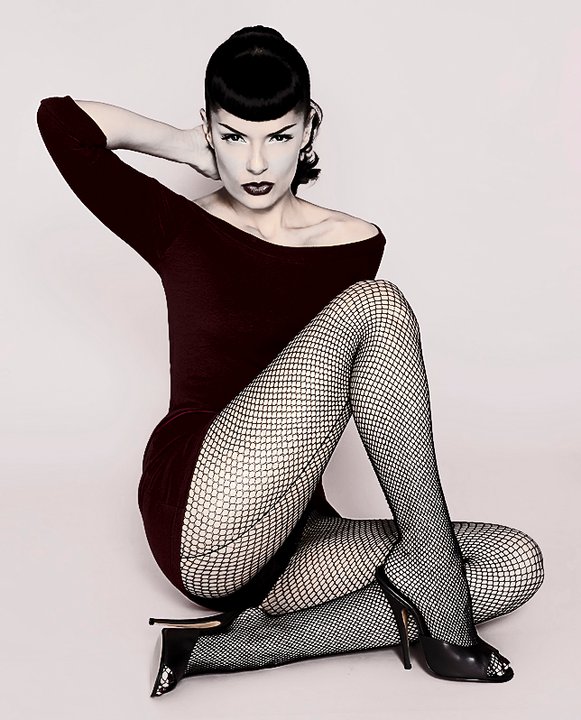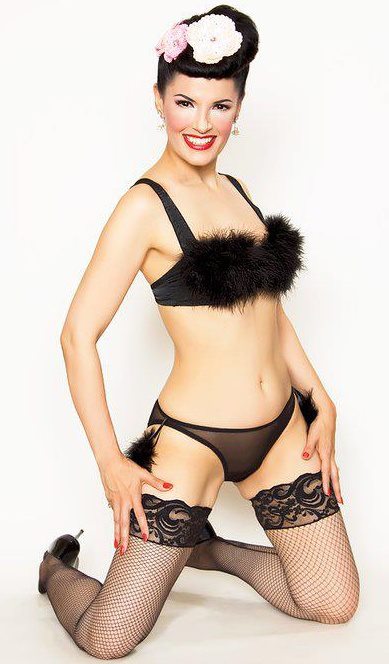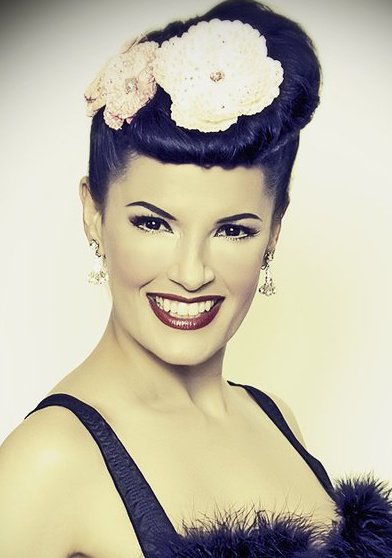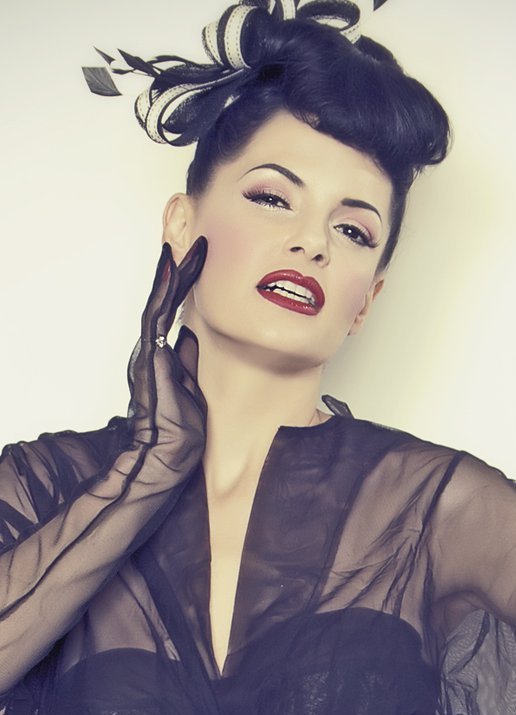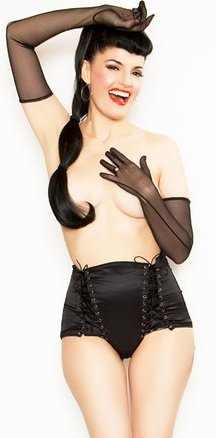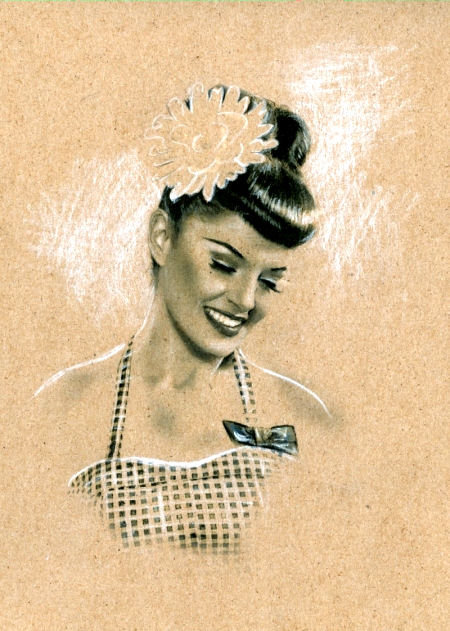 Art work above my Nathalie Rattner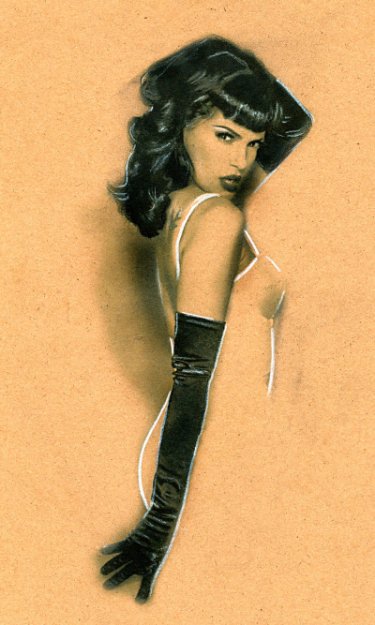 Art work above my Nathalie Rattner