Art of SINCLAIR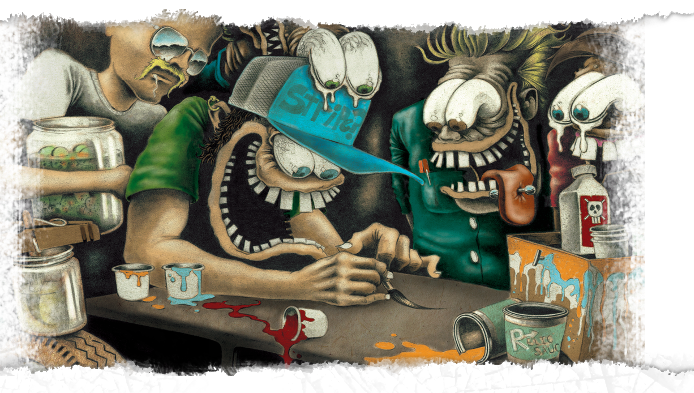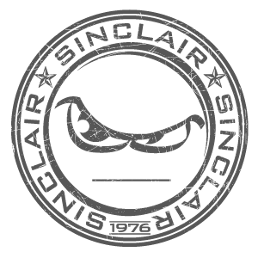 This week we have Nick Sinclair as our feature artist. Nick's work screams kustom kulture and we love his wild style. We are happy to add Sinclair to our list of talented artists and know you will be seeing his work for years to come.
Have you ever seen Thriller? Yeah, that Michael Jasckson thing with a werewolf and zombies. That started it all for me. Sure, my dad was a hot rodder and I remember sitting in his lap while we drove the old blue Nova down the road in front of our house in Wheaton, IL. He had bikes and boats, but to find that B movie, lowbrow thing I first had to get that huge life size Thriller poster in my room. That video made me want to seek out more stuff like it, and I did. It wouldn't be long before Freddy Krueger started to haunt my dreams and my bedroom floor was cluttered with comic books, GoreZone and Fangoria magazines. The search for more would lead me to Gwar and from there into more music where I would find all the poster artists I look up to today like Coop, Kozik and Stainboy.
My first car, a 1966 Pontiac Tempest, set me in the automotive direction.
At first art seemed to be a hobby so I went for an engine building degree. Before I finished that intense (not really) degree I decided to meld art and cars. I had always been drawing but now I focused on hot rods. It would be years before I felt comfortable with my work, enough so to set up at a car show. It was Mopars in the Park and I brought mostly art of Chevy's… brilliant. I might have sold one thing. What did happen was a commission for a car club known today as the Heavy Hitters. I would say these guys help give me a break locally and today we are friends and I still do work for them. Now I travel the mid-west setting up at shows, pushing my work and hanging out with a ton of great people from Torque Fest to Greaserama.
Right now the majority of my work is pen and ink, black line stuff. I have used pencil and I am working more in that medium. For a long time I would add color on the computer but I am slowing that down and adding color by hand. I don't use ellipses or rulers, I freehand everything. I gesture sketch like a mofo. I learned that from my high school teacher. Every piece I do I have something I don't think works, and something that worked great. I carry those lessons to the next piece and to the next and so on. I am constantly learning and challenging myself. If I'm not challenged I will move on to a new chapter in my life, but for now my life is lowbrow kustom kulture and it looks like I will be here for a while.
You can see my work and even buy some at www.LowbrowHighOctane.com