Motography by Phil Clark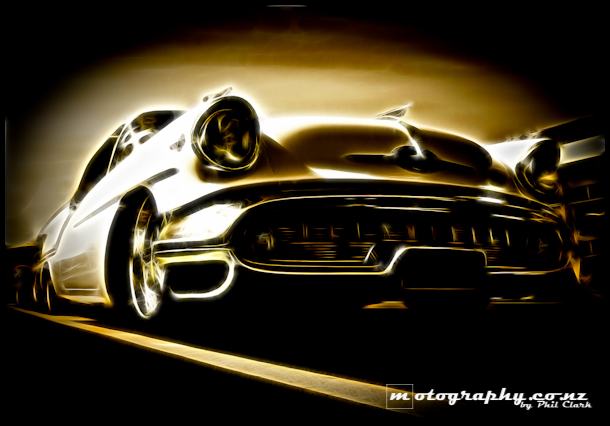 We have the talented Phil Clark of Motography as our Art Feature this week.  Phil's work instantly caught our attention, we love his unique edge and artistic approach to the automobile.  Capturing cars in motion, in different lighting, accenting their own characteristics gives each image a personality of its' own.  Turning a passion into an art form and letting his creativity run wild for our viewing pleasure! 🙂
BIO:  I grew up from an early age appreciating cars. Be it through watching motorsport, car books, magazines or toy models – I just loved the things. I grew up, but still the little boy (grown tall) gravitated towards all things 'automobile' – the passion has always been there.
Growing up in Old Blighty it was natural to love small European lightweight sports cars and often to scoff at the large American land barges they called 'automobiles'. After emigrating to New Zealand I happened across an event called Beach Hop – which is just EPIC. Basically a couple of thousand classic muscle cars, hot rods and street machines take over a small coastal town (called Whangamata -pron 'fonga-mat-arr') for 5 days late summer for a huge festival. I was hooked.
All the while I had been self-developing my photographic skills over the years. Film was okay, but with the advent of digital I found that a whole new level of creativity could be reached. This was the point at which 'motography' was born.
Growing up with the old adage 'I don't take snaps….I paint with light' has meant that I constantly seek to portray cars in a different light. I constantly challenge myself to capture cars in differing lights and in motion.
There are great 'static' photographers and there are also great 'sports action' photographers – but hardly anyone who captures motion in an artistic manner. Cars are generally more interesting and contextual when in motion – that's what they were made to do – not just sit there in a parking lot looking pretty.
So motography for me is really capturing something different in an artistic manner – if that makes sense 🙂 I offer commissions, photo shoots and have artwork for sale.
Follow motography on Facebook
Buy his work on FineArtAmerica
Visit my website – www.motography.co.nz
p.s. there has only been one car photographer that I have really admired so far and that is Tim Wallance of Ambient Life – http://www.ambientlife.co.uk/