Cadillac Through the Years, Sunday, March 25th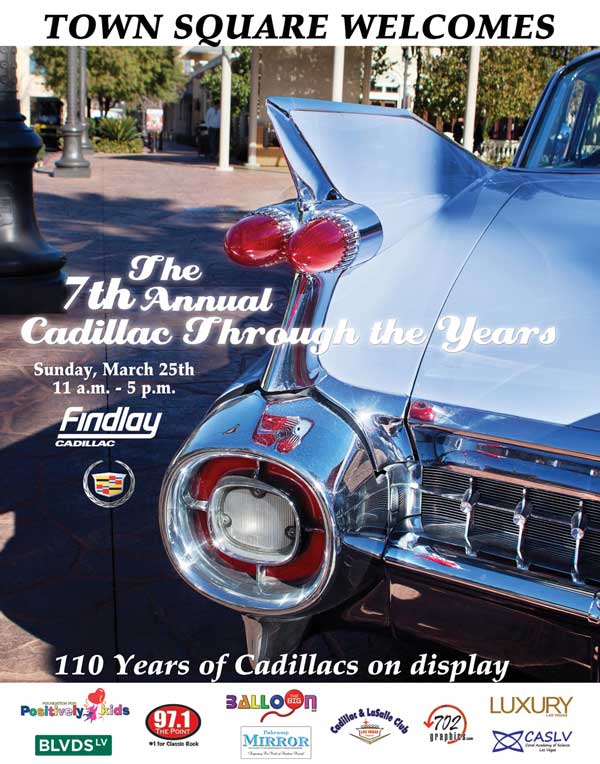 An epic event for an American Automotive Icon
1902 marks the marvelous beginning of the Cadillac brand of automotive excellence.  On Sunday March 25, at Town Square 110 years of automotive history will be on display at the 7th Annual Cadillac Through the Years show, presented by Findlay Cadillac and the Las Vegas Cadillac and LaSalle Club.
Findlay Cadillac will be giving attendees a first look at GM's jewel of the 21st century, the 2013 Cadillac XTS. Designed with top-of- the- line engineering, cutting edge technology, top-notch performance and safety features, it's a marvel on wheels!
During this six hour event guests are encouraged to mingle with classic car lovers from all over the world, enjoy great entertainment and an art show and an auction from the Coral Academy of Science. Visitors will have the opportunity to meet top celebrities including The Jersey Boys and win exciting door prizes.
Rounding out the day's festivities will be a parade led by Pahrump's award winning marching band and cheerleading team.  Additionally there will also be a tribute to the Jersey Boys, with vocals by Leayre Dante backed by a cleverly outfitted choir. This is sure to be a rousing, nostalgic performance and awe-inspiring event.
Cadillac Through the Years, Sunday, March 25th from 11 a.m. to 5 p.m. at Town Square Las Vegas.
For additional information call Findlay Cadillac, 
702-558-2600
 or visit the Town Square website at