Billetproof Nor-Cal: September 15, 2012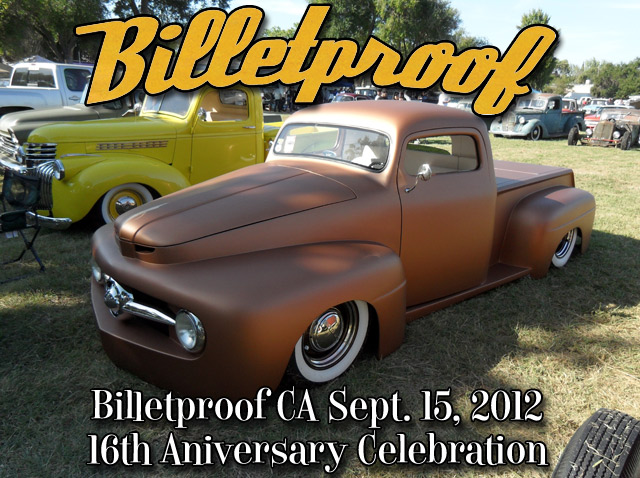 What is Billetproof?
Billetproof is about HOT RODS and CUSTOMS and is for those who appreciate the skill, ingenuity and creativity that went into building them during the early days of the hobby. A time when hot rods and customs were about what you could do in your garage rather than with your checkbook. A time when hotrodding was a little dirtier, less polished and still experimental. While there is nothing wrong with the high-dollar billet clad side of the hobby, we just find it more fulfilling to do it ourselves and to drive our creations rather than trailer around a piece of fine art. It's not about having the best looking car, nor the ugliest. Billetproof is about DOING IT YOURSELF! Billetproof is NOT a revival of the fifties or rockabilly. It strives to be a unique event and state of mind. The show's loyalists ages range from 16 to 80, with personal styles all across the spectrum. But they do all have one thing in common—a love for building and driving traditionally inspired hot rods and customs.
In 1997 the show's founders, Kirk Jones and Jay Ward, had had enough of being looked down upon at all the car events they attended because their cars were considered unfinished. Their cars were never going to be "finished". Primer and rust were just fine. All those $100,000 cars weren't inspiring at all. In fact they were down right boring. It was time to do something. So they started their own show. It was obvious that there was a need to showcase the growing movement of rodders who were inspired by the era when hot rods were all business, dangerous, sharp and explosive. In short, FUN. The first show was in the parking lot of Albany Bowl in Albany, CA and was attended by 26 cars. While that seems small now, it was more than expected. Everyone there had a blast checking out the cars of the like-minded, winning the hand made trophies, and realizing that they weren't alone in their passion for this brand of car building.
From that first effort the show and movement have grown like mad. Over the last six years the number of participants accelerated from 26 to 83 to 165, and soared to 779 cars and over 3000 people in 2004. The show managed to attract attendees from 12 states and as far away as Canada, England and Japan, all the while outgrowing every venue the show occupied. Bowling alleys, city parks and even a dusty rodeo grounds proved too small. 2004 was the shows second successful year at the Antioch Fairgrounds in Antioch, California, it's biggest and best venue yet, with more cars, activities, vendors and trophies than ever. The goal now is to embrace the fact that the show has become successful and allow it to continue to grow while keeping it's traditional roots and personality firmly in place. "Big and still cool" is the new credo. So don't miss this year's show!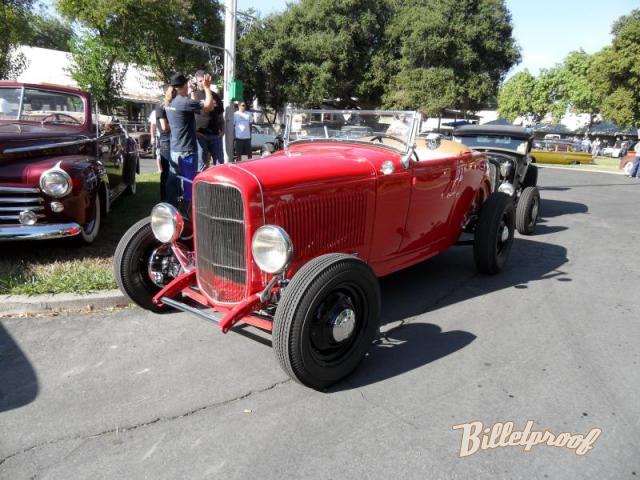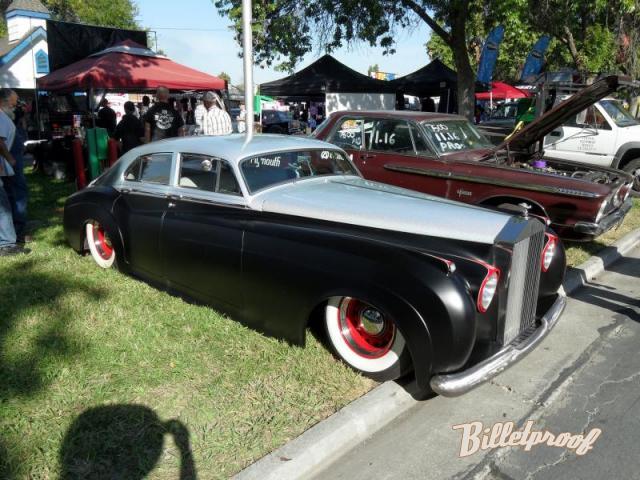 Billetproof Nor-Cal: September 15, 2012
16 years of blood, sweat and gears!! Billetproof is backwith one-of-a-kind events, live bands, great vendors, and the sickest 64 and prior do-it-yourself traditional rods, kustoms and motorcycles on the planet. We will be limiting attendance to 1000 vehicles, so register early! There will be no exceptions this year.
Billetproof Nor Cal – September 15, 2012
Antioch Fairgrounds
1201 West Tenth St.
Antioch, California
Spectator entrance opens at 9am (Spectator entry is $10
Free for kids under 13 and police & fire with proper ID)
Indoor vendor and artist booths (check the Vendor Info section for details)
Pinstripe panel jam
Live bands playing throughout the day!
Our famous trophies awarded in many categories!
Swap Meet
Delta Blues Festival in dowtown Antioch on Sat. Night. (FREE!)
Registration is $25 if RECEIVED by September 1st, 2011. After that and at the gate it's $30. Do not count on being able to register at the event! PLEASE remember that this is an event for those of us who build our own traditional style rods and customs on a limited budget. NO billet-clad, digital gauge, pastel graphic, named after a fifties song trailer queens! Entry confirmation will be mailed approx 1 month beofre the event. Billetproof goes on rain or shine! No refunds. See you there!
More Info:  http://www.billetproof.com/upcomingshows/california