"Tax Refund" The '46 Ford Tudor Sedan

"Garage Built"
This week we have Mike's '46 Ford as our feature ride! The car has a great story and looks like a fun ride. These are the cars we love Homebuilt Hotrods!
The Story:
The car was built on a shoestring with little or know prior knowledge or schooling of how to build a car from the ground up. Started in January of 1996 and finally driven for the first time in November of 2008, it took a lot of compromises, horse-trading and time, but it's finally on the road, but that's not the end of the project… just the beginning of the fun part.
I should call it "Tax Refund" because that's how it was built. I found the carcass in an Auto Trader in December of 1995, and called the guy up, seems somebody cleaned out a barn in Wyoming with a '55 Chevy, 2 '47 Chevys and my '46 Ford Tudor and they drug them down to Florida to sell. At the time, I was enthralled with street rods… I'd been buying subscribing to Street Rodder magazine since the late 80s and I had finally had enough money to pay for rent and food on a regular basis and my clothes were fairly new, so it was time to build a car, right?
So I asked the guy to hold it until I could get my tax refund and he did. $1000 and I had myself a 1946 Ford Tudor Sedan, without a front seat or engine, mismatched wheels and tires (the best ones you find only at TreadHunter), the front clip baling-wired to the frame, but very little rust…The beginnings of a Street Rod!
I'll get into the tribal lenders thread but for now let me get back to the tax refund thing.
It's always worth searching for debt advice online before setlling into any kind of binding plan. It's important to know all of the options you have available.
Since fast cash & bad credit score relation was all I could muster for 1996, but I had been planning for a few years before. At the time I had a small block Chevy 307 with a Powerglide that I traded a Corvair van for (Did I mention I was driving a '65 Corvair Convertible for a daily driver in 1996, OK, now I have), and I found a '65 Mustang 8″ rear in a bargain trader for $35, I also had a 60 Corvair I'd bought for $50 and it was rotting in the back yard… Yeah, I'm weird.
In '97 I bought a second chassis and a spring hanger kit from SAC in california for the 8″; in '98 I bought a 4″ dropped axle and wishbone splitting kit from Posies; '99 brought me the front disc brakes from Speedway; '99 the brake pedal bracket and master cylinder, and so on. In between, I had the frame sandblasted and I painted it, I sold and traded up for a '87 350 that was in a '68 Dart (that's a whole 'nuther story in itself.), and did little things along the way.
Around 2002, the Installment upon approval project is stalled, and I get the Harley bug. I just paid off a late model I had bought, and I had a little money… As with a lot of bugs, it was just a virus an went away in about 18 months. I had also signed up on the JalopyJournal's HAMB for real on 2002, I'd been lurking since 1999. Then I decided to go back to school to finish my degree. I got the degree in December of 2006, and I have $8000 with of parts doing nothing in the garage.
Enter the Poor Boys/Swamp Kings, I had been to the Detroit Autorama in 2005 (I'm originally from Detroit, I moved to Florida with my parents in 1977, I was 13) and met a few of the Poor Boys and thought they were a cool bunch of guys, but that's as far I thought about it. then in 2006, I went to a meet and greet at a HAMBers shop, and met up with a bunch of car guys, one of them had just gotten back from the 2006 Detroit Autorama, and was given permission to start a Florida Chapter of the Poor Boys… I signed my name on the dotted line and that was it… I was now a cool kid!
I asked the guys to push me, tease me, and ride herd on me relentlessly until I got the card drivable, and it worked… I started a build log on my website and kept them up to date on my progress via the web. One time they all descended on my barn and plumbed the whole chassis in one day. Finally in November of 2007, I putted around the backyard for the first time… With no oil pressure. So I yanked the engine, put it on a trailer and asked the guys to take a look… We found no damage, and we put it back together and I put it back in. I had a few small pipes bent so I could drive it the 30 miles to Poor Boy/Swamp King Dave's shop, we did some fine tuning, leak fixing, and Dave put an exhaust system on it for me. An interesting fact is that other than the motor mount brackets (I didn't have a welder yet, so I took it to a guy and paid him $20), and the parts that were put on by my club brothers, I turned every wrench on this car, up to and including, mounting the tires myself on a manual tire changer.
Other than a few leaks and bolts loosening up, it's been on the road, reliable as a late model. It's towed a camper to Daytona, and except for the first one where we secretly trailered it, driven to every Billetproof Florida (The Poor Boys are the host club), Gainesville and Ocala. and every Billetproof Florida Drags, and raced with a best time of 9.9@75 in the 1/8.
The bodywork has not even been started, in fact the rattle can paint job was applied mostly over dirt… Plans are for a dark red pearl paint job, haven't decided if it'll be shiny or not, seaweed flames in the colors of the inside of an avocado. Still gotta make the '42 hood look right with a peak and shortened side trim, the latch area needs reworking. Lincoln door buttons are on the list too. Then I need to finish up the interior with more black vinyl and mother of pearl drum wrap and A/C (it's Florida). I'm not going to be happy to pull it off the road again for the bodywork and paint, but I have another degree to get, so it'll be like it is another 2 and a half years at least.
There have been been a few shake-ups, the Poor Boys, we are now Swamp Kings and still the host club for Billetproof and still rich in hot rod brotherhood. I couldn't have done this without those guys, or my best friend Joe, or Fat Hack from the HAMB, or the HAMB itself. Thanks everybody!
The Specs:
1946 Ford Tudor Sedan
Engine: 350 SBC 87 black 80's truck heads, CalCustom 9 fin Valve Covers with matching air cleaner cover. Leaky Chinese chrome oil pan
Trans: TH350 with cheapo B&M shifter, leaky Chinese Chrome pan
Custom Driveshaft made from bits of cast-offs
Front: Posies Front spring, 4″ drop axle, split 'bones, GM Calipers, Volare Discs, Speedway brackets
Rear: Parallel leafs, Dodge Van springs, SAC Kit, '65 Mustang 8″ 3.00:1 open
Wheels: Rally America Chromed OEM Ford Wheels, 15×5″ and 15×6″ reversed in back
Tires: Coker Classic Bias ply wide whitewall tires 5.60-15 up front, L78 15 in back
Seats: '64 Thunderbird
Dash Narrowed '60 Corvair with SW gauges incl, clock
Paint: Ace Hardware Navy Blue rattle can
Other: Chrome pushbars, originally on a '41 Ford custom in the 50's, Sold to me by a HAMBer. 49 Chevy rear license plate guard, 65 Corvair bumper as grill bar, G2 Corvette Tailights, Fairlane fiberglass chin, peaked '42 Ford hood (in the works), narrowed top grill surround, custom fan shroud, custom class 3 trailer hitch, '64 Riviera console.
Oops, you said short… Haha thanks for the great story Mike!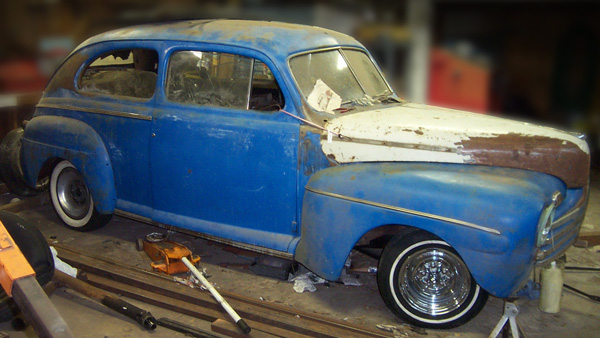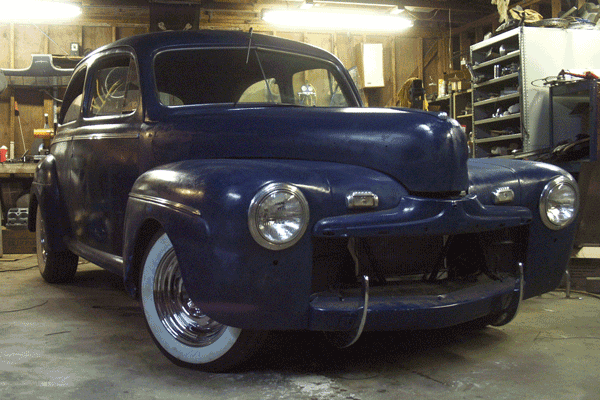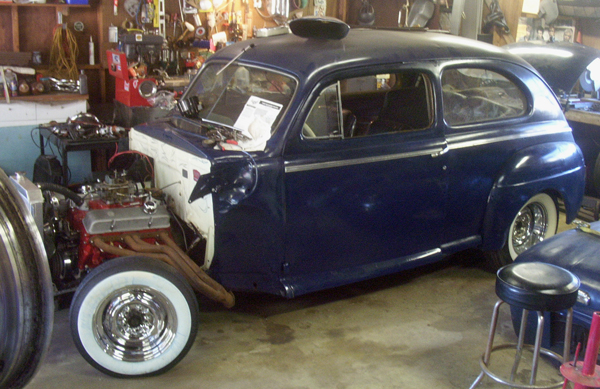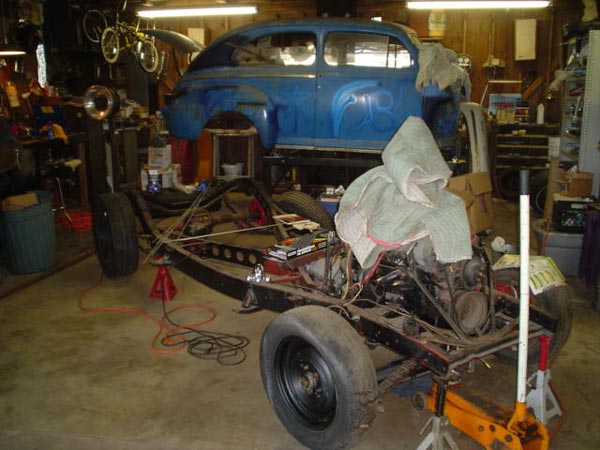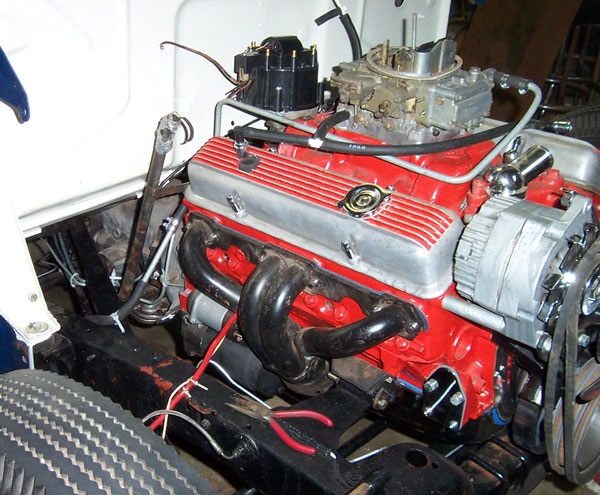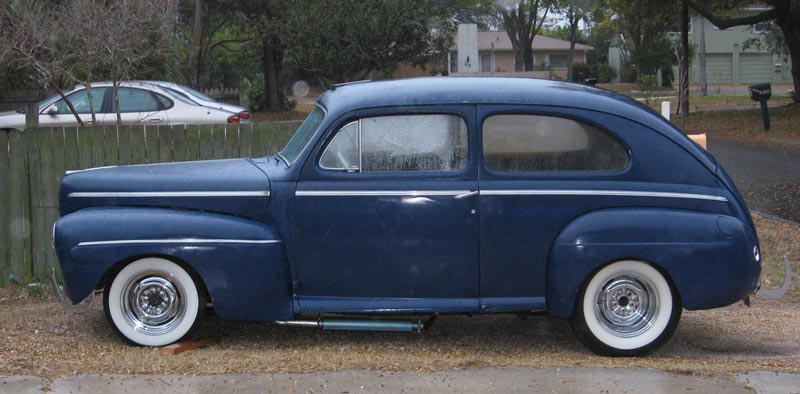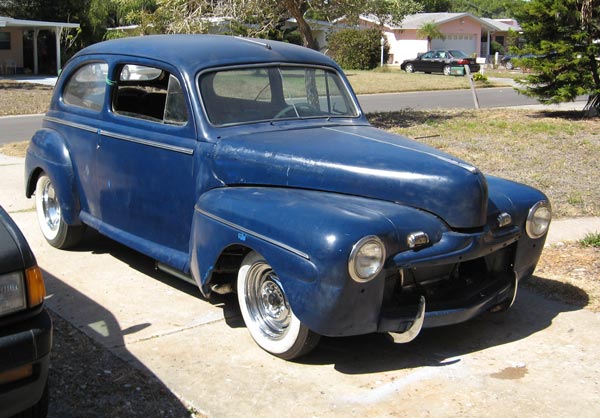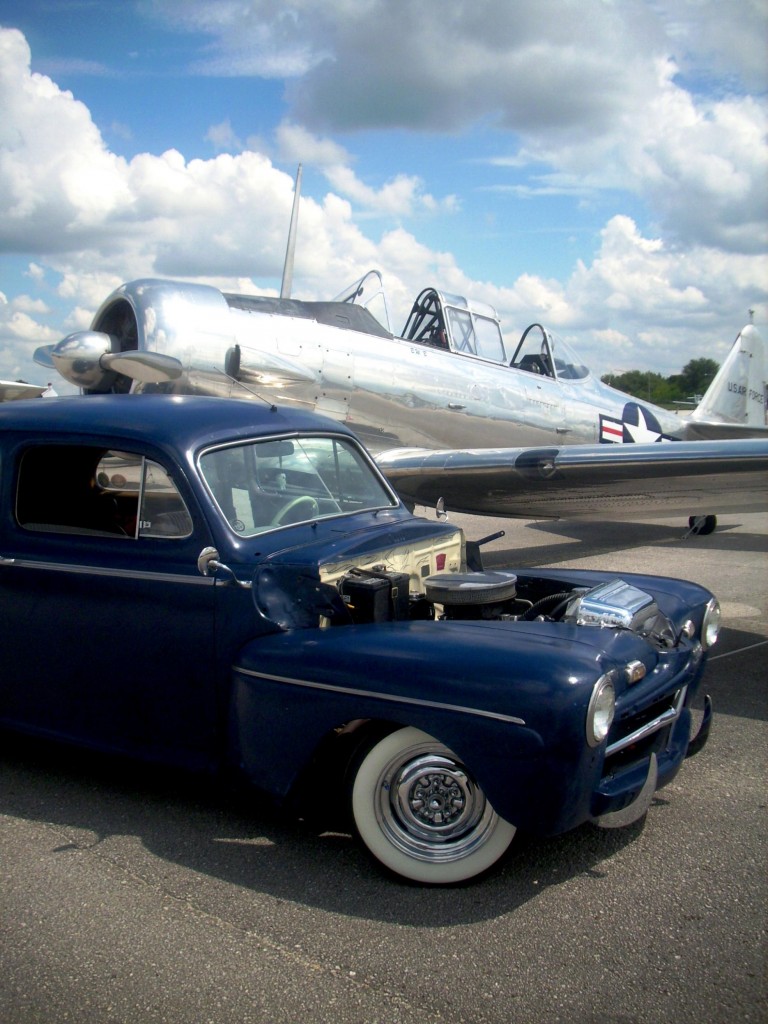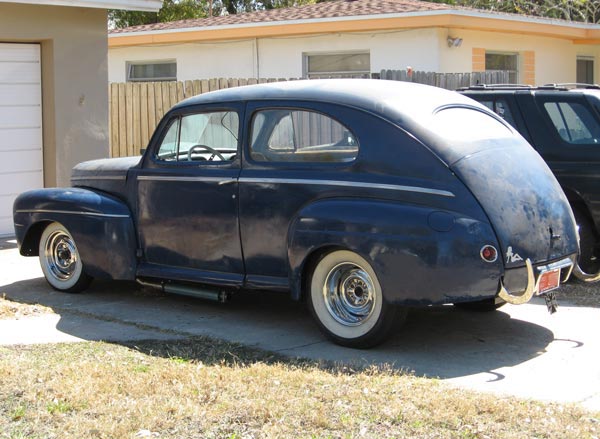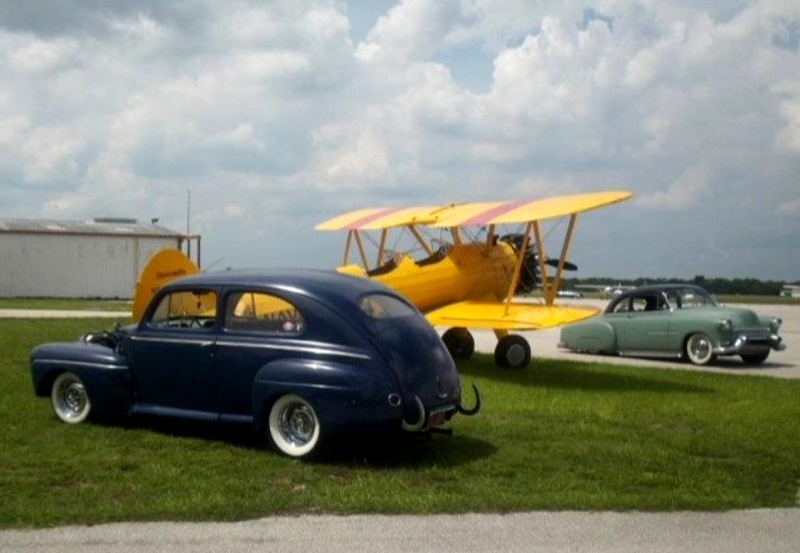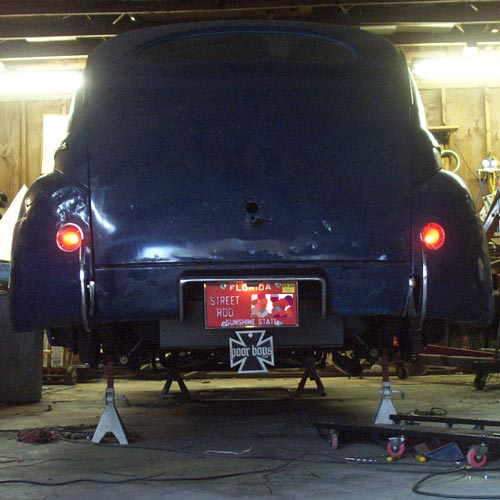 Order Mikes Stickers here: traditionalhotrod.com