Ashley Stiletto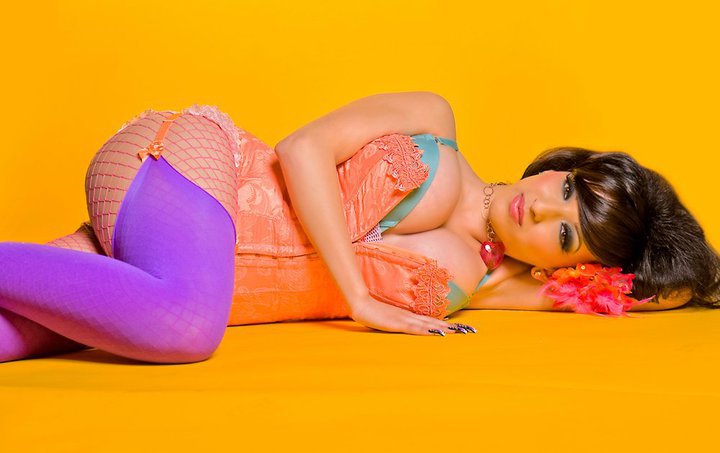 Our stunning pin-up feature of the week, Ashley Stiletto.  She embraces the "girls just want to have fun" personality.  Her bold style and seductive look make for gorgeous, catch you eye photos.  Ashley can certainly be called the Cat's Meow!
"I ♥ Lots of Makeup, Big Hair, Big Boobs, High Heels, and Tons of Clothes!! I Get People Are Into The Natural Look Nowadays, But I'm Not. So Don't Ask Me Why I Wear Makeup, Dress Up For No Reason, And Do The Things I Do. It's Just Me!" – Ashley Marie
Hello Everyone! My name is Ashley. I go by Ash, Ashley Marie and Chachi. I'm 23 years old and live in Orange County, CA ♥
I am very into vintage fashion and I LOVE being a pinup girl. I've gone through many fashion phases and I must say this one has been the most fun! It's different, exciting, and it catches the most attention. The style really embraces and enhances the female body. What's not to love about pinup girls?! I am also in the process of opening my own vintage boutique in Santa Ana, CA which will carry popular vintage brands and my designs as well. So keep a look out in 2012!
You'll rarely find me at bars or clubs. Instead, I'm either dancing (my other passion), relaxing at home watching classic shows and movies, or SHOPPING for
hand engraved signet rings
! I also love meeting new people and appreciate all the support everyone has given me especially those women who sought after my help when it came to vintage styling which is why I made my fan page. It's amazing all the wonderful and kind hearted people you come across in a matter of months.
"Be kind to people on your way up – you'll meet them again on your way down."