Happy Birthday Buddy Holly!!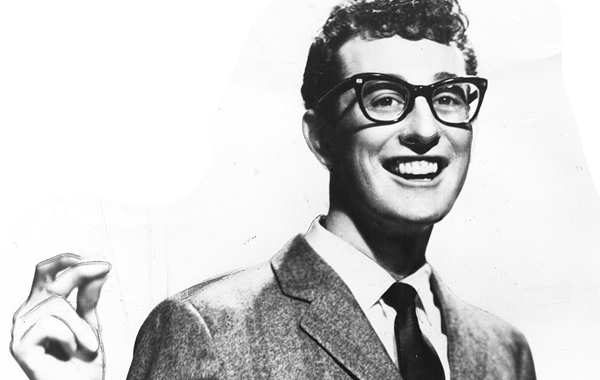 Buddy Holly was one of the greatest pioneers of Rock 'n' Roll, at the young age of 22 he left behind a legacy that rock bands have strive to achieve for decades.  His talent in all aspects of the music industry and his experimental recording hours lead to a number of timeless hits that we are still enjoying today!
Singer. Born Charles Hardin Holley on September 7, 1936, in Lubbock, Texas. As the fourth and youngest child in his family, Holly was nicknamed "Buddy" by his mother, who felt that his given name was too big for her little boy. "Holly," the altered form of his last name, would later result from a misspelling in his first recording contract.
Buddy Holly learned to play piano and fiddle at an early age, while his older brothers taught him the basics of guitar. A 1949 home recording of "My Two-Timin' Woman" showcases Holly's skilled, if prepubescent, singing voice. Holly's mother and father, a tailor by trade, both proved to be very supportive of their son's burgeoning musical talents, generating song ideas and even penning a letter to the editor of Lubbock's newspaper in defense of rock 'n' roll-loving teenagers lambasted in a conservative editorial. Despite his parents' support, Holly couldn't have become a founding father of rock 'n' roll without engaging in some degree of rebellion. Once a preacher at the local Tabernacle Baptist Church asked him, "What would you do if you had $10?" The young rocker reportedly muttered, "If I had $10, I wouldn't be here." Holly had clearly set his sights on something other than growing up to join his brothers in their tiling business.
After high school, Holly formed a band and played country and western songs regularly on a Lubbock radio station. He frequently opened for more prominent national acts that toured through town. Bandmate Sonny Curtis viewed Holly's opening for Elvis Presley in 1955 as a crucial turning point for the singer. "When Elvis came along," Curtis recalls, "Buddy fell in love with Elvis and we began to change. The next day we became Elvis clones." Although the bespectacled, bow-tied youth lacked Elvis's incendiary sex appeal, Holly's conversion from country to rock 'n' roll did not go unnoticed. A record company talent scout soon caught his act at a skating rink and signed him to a contract.
In early 1956, Holly and his band began recording demos and singles in Nashville under the name Buddy Holly and the Three Tunes, but the group's lineup was later revised and dubbed The Crickets. Holly wrote and recorded his breakthrough hit, "That'll Be the Day," with The Crickets in 1957. The song's title and refrain are a reference to a line uttered by John Wayne in the 1956 film The Searchers. Between August 1957 and August 1958, Holly and the Crickets charted seven different Top 40 singles. Coincidentally, "That'll Be the Day" topped the U.S. chart exactly 500 days before Holly's untimely death.
In October 1958, Holly split from The Crickets and moved to Greenwich Village in New York City. Due to legal and financial problems resulting from the band's breakup, Holly reluctantly agreed to tour through the Midwest in 1959 with The Winter Dance Party. Tired of enduring broken-down buses in subfreezing conditions, Holly chartered a private plane to take him from a show in Clear Lake, Iowa, to the tour's next stop in Moorhead, Minnesota. Holly was joined on the doomed flight by fellow performers Ritchie Valens and The Big Bopper. The plane crashed within minutes of leaving the ground, killing all aboard. Buddy Holly was just 22 years old. His funeral was held at the Tabernacle Baptist Church back in Lubbock.