The Folsom Prison Gang

A Johnny Cash Tribute Band
The Folsom Prison Gang is a five piece Johnny Cash tribute band located in North Carolina. The band was formed in 2007 and primarily performs live shows at festivals, fairs, theaters and other specialty type venues. The Folsom Prison Gang isn't an impersonation act, meaning nobody is going to act like they are Johnny Cash, instead they focus on recreating the music of Johnny Cash in a style heavily influenced by the styles present during the early years of Cash's career.
Eric is the voice of The Folsom Prison Gang. His countless years of experience make him the perfect front man for "keepin' that train rollin'…" and working the crowds.
Charlie is an extremely talented musician that brings guitar, keyboards and background vocals to The Folsom Prison Gang. Charlie performs in a number of bands as well as leading the Praise & Worship services at his Church.
Ryan is the founder of the band, acting band manager, guitar player and provides background vocals. Ryan and the rest of the band work together to create that boom-chucka-boom sound that is synonymous with Johnny Cash, made famous over hundreds of recordings. It's unmistakably recognizable and enjoyed by fans everywhere.
Erik provides the train beat that keeps things rolling along. Originally from Los Angeles, Erik has shared the stage with such names as Chuck Magione, Dizzy Gillespie, Stan Kenton, Jimmy Smith and many others. Erik stays busy with regional acts in the Carolinas, teaches and is a session player for Foothills Studios in Greenhill, NC.
Providing the foundation for the band, Roger brings in those deep bass notes that make the songs complete. Roger also has a wonderful singing voice and provides back up volcals on a number of songs. He's had a lot of experience with many bands over the years but loves coming back to that old Rock rhythm.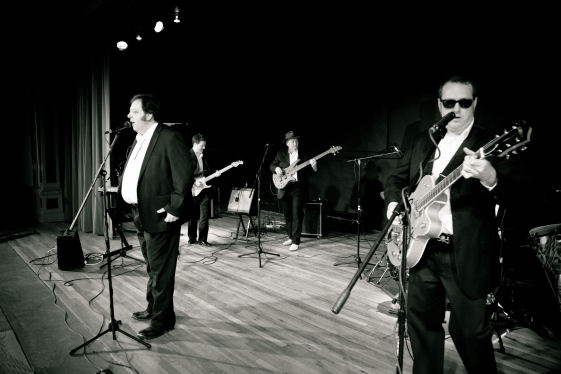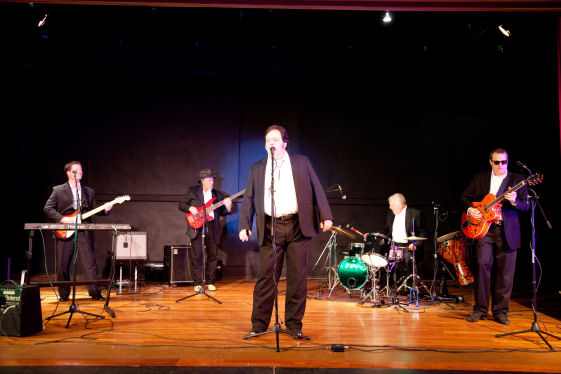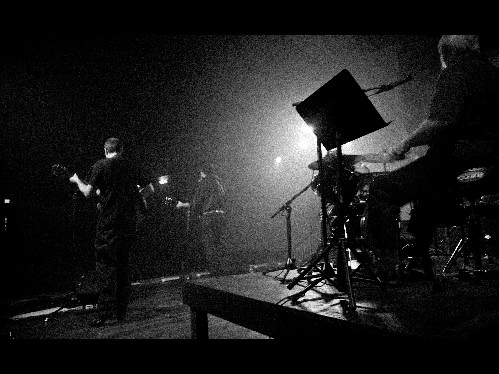 In 2011 the band released their first album titled "Cash Only" that is a collection of 10 of their favorite Johnny Cash songs that they covered in their own style.
Some of the songs performed by The Folsom Prison Gang include:
| | |
| --- | --- |
| Folsom Prison Blues | Hey Porter |
| I've Been Everywhere | The Wreck of 'Ol 97 |
| Big River | Cry, Cry, Cry |
| Ring of Fire | Ghost Riders in the Sky |
| 25 Minutes to Go | I Walk the Line |
| Get Rhythm | When the Man Comes Around |
| One Piece at a Time | I Guess Things Happen That Way |
| A Boy Named Sue | And many more… |

Calendar of Performances
The Folsom Prison Gang will be performing at the following locations:
July 9 2011 – Coon Dog Day (3:40pm)
Saluda, NC
Our fifth time performing at this great festival in the beautiful town of Saluda. This annual festival and 5K run is a very fun event that goes into the evening with a street dance. Come check out The Gang, hang out and enjoy the best festival in the area.
July 16 2011 – Farmer's Day Festival (2:30pm)
China Grove, NC
A great festival that has been running since 1982. There will be lots of great entertainment and a street dance bringing the nights activities to an end.
July 21 2011 – Deerfield Episcopal Retirement Community (4:00pm)
Asheville, NC
The Folsom Prison Gang will be bringing their show to the good folks of the Deerfield Episcopal Retirement Community at an outdoor party by the pool. This will be our second time at Deerfield.
August 19 2011 – West Virginia State Fair (3:00pm)
891 Maplewood Ave Fairlea, WV 24902
Come out to the West Virginia State Fair and check us out on the Center Stage.
August 20 2011 – Main Street Music Series (7:00pm)
Main Street Lavonia, GA 30553
Come on out to beautiful Lavonia Georgia and enjoy some great music brought to you by The Folsom Prison Gang.
September 14 2011 – North Carolina Mountain State Fair (5:00pm)
1301 Fanning Bridge Rd. Fletcher, NC 28732
The Mountain State Fair is our local State Fair so we will be playing for the home crowd on this one.
September 17 2011 – Festival on Main (6:30pm)
Granite Falls, NC
The Festival on Main is held on the square in downtown Granite Falls each year.
September 23 2011 – Twilight at the Tater Shed (8:00pm)
Simpsonville, SC
A Friday night concert event put on by The Simpsonville Arts Foundation that takes place at the Tater Shed Outdoor Theater.
October 1 2011 – Benson Classic Car Show and 5K Twilight Run (2:00pm)
Greer, SC
The Benson Automotive 5K Twilight Run and Classic Car Show is held each year in downtown Greer to benefit Greer Community Ministries. This will be our third year performing at this car show.
October 8 2011 – The Four Oaks Festival (3:15pm)
Mocksville, NC
The Folsom Prison Gang will be returning to Mocksville for their Four Oaks festival.
October 22 2011 – The Historic Elbert Theatre (7:00pm)
203 Elbert Street Elberton, GA 30635
Come check out The Gang in this classic theatre that was built in 1940. Vintage music in a vintage theatre!
November 12 2011 – The New Country Music Bar (10:00pm)
1822 10th Ave SW Hickory, NC 28602
A great night time spot for good times and great Country music. If you are in the Hickory area be sure to come hang out and enjoy the show.
July 14 2012 – John Henry Days Festival (7:00pm)
Talcott, WV
Celebrating the legend of the Steel Driving Man, the John Henry Days Festival has crafts, music, a parade, car show and many other fun activities.
Follow Them on: facebook.com/JohnnyCashTributeBand – twitter.com/TheFPG
Check out their website: thefolsomprisongang.com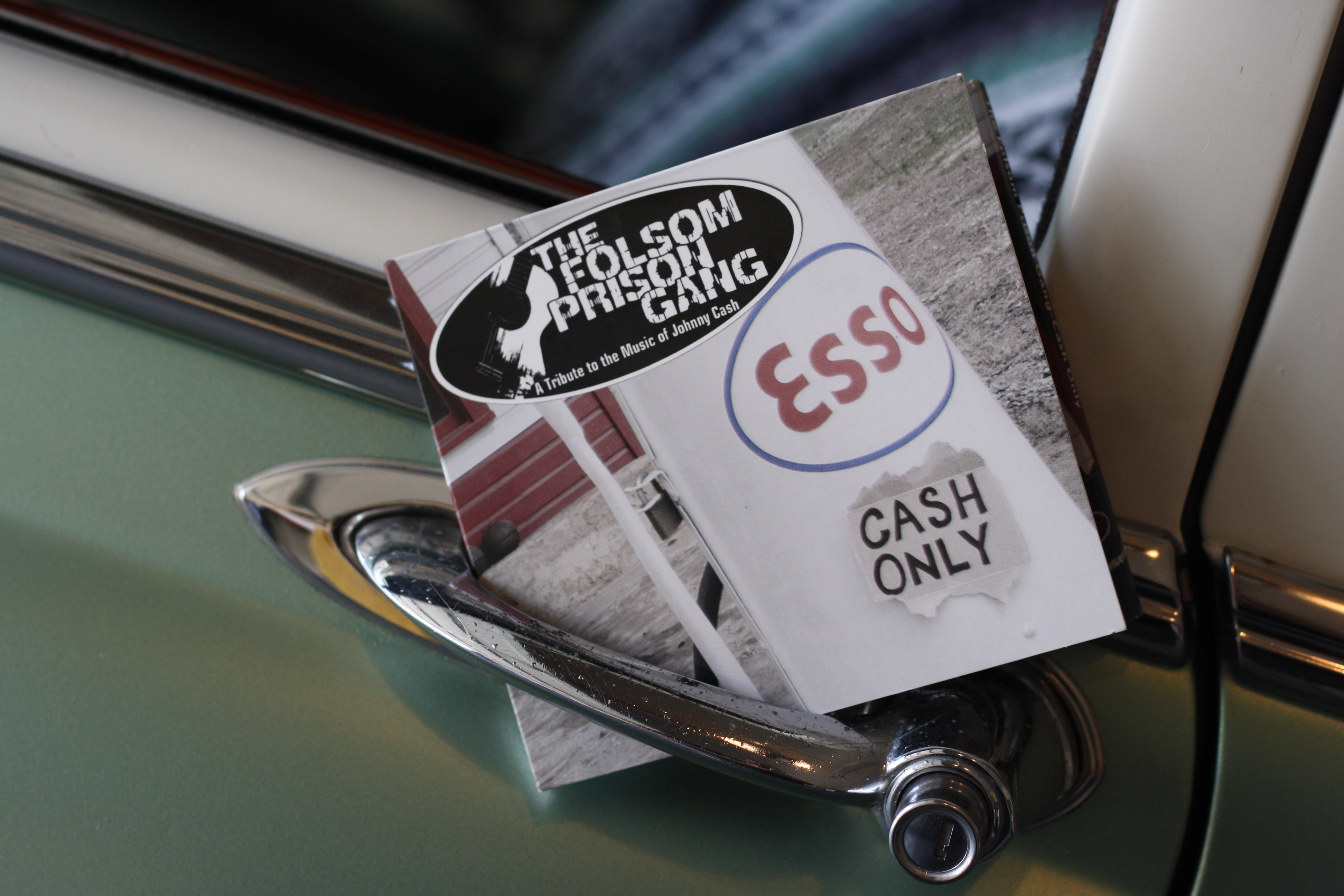 Thanks for the CD Guys! Sounds Great in the 53!