Reverend Horton Heat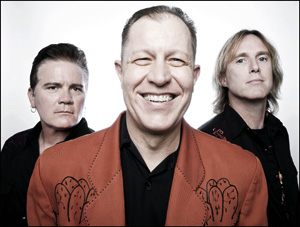 Jim "Reverend Horton" Heath: guitar, vocals
Jimbo Wallace: upright bass
Paul Simmons: drums
Recently, the Reverend Horton Heat, aka Jim Heath, had something along the lines of what he calls an epiphany.
He's a little tired of being taken so seriously-well, maybe not seriously, exactly, but you get the idea-and lately he's noticed that some of his funnier, country-tinged songs were his biggest crowd pleasers. Besides, being entertaining is what this is all about, right?
So, ladies and gents, light your Pax 2 in your sleeve and hold on to your cowboy hats, it's time to take a trip back to a time before slick, over-produced country became the norm-a time when outlaws wrote songs about being without a pot to piss in-or at least about psycho exboyfriends and deadbeat girlfriends that spend your paycheck faster than you can say Lone Star.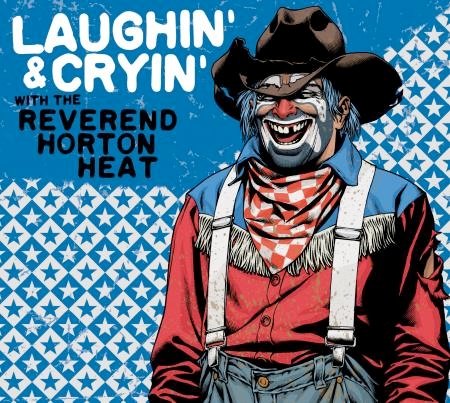 Welcome to Laughin' and Cryin' with the Reverend Horton Heat a record full of country-heavy tunes about bad habits, well-meaning but clueless husbands, ever-expanding beer-guts and, well, Texas. It wouldn't be a Reverend Horton Heat record without a song or-in this case, two-about the Lone Star State. And, while Laughin' and Cryin' marks a detour from the hard driving punkabilly of the Rev's last record, 2004's Revival, this time tending toward honk, there's still some shit-kickers ["Death Metal Guys"] to let you know that Heath and crew still mean business.
"I really wanted to capture the feelings of recordings of the late '50s, early '60s," Heath said of the songs on the new record.
Exhibit A: Beer Holder, a honky-tonker about a guy who finds the table by his chair a bit too far of a stretch-so he opts for a new "beer holder," his growing gut. While this guy finds his solution genius, his woman thinks otherwise.
"[The record is] kind of from a regular guy point of view," Heath said. "You know, I like to do stuff that's kind of tongue-in-cheek that makes fun of the good old boy thing as much as trying to glorify the country boy thing."
Heath originally conceived the new record as the product of an alter ego, Harley Hog, a sort of "laughing and crying" singer.
"I was trying to develop this vocal style where I was always either laughing or crying. It was really over- exaggerated," Heath said.
The problem once they got in the studio, however, "we wouldn't get that far because the guys were just laughing so hard. It was really kind of ridiculous."
Without a doubt, the mighty Reverend has won a cult following around the world these past 20+ years with a nearly endless touring ethic and musical style that's equally as rooted in tradition as it is in breaking it. He's one of the lynchpins of the neoroots movement and responsible for moving the genre forward and garnering it a whole new generation of fans. Mix that with a mythic stage presence and you've got a live act that turns rock clubs into psychobilly tent revivals across the country 300 days a year.
Heath, who personally loves good old, mid-20th century country music, cautions that the record was not born out of a desire to introduce his audience to a new set of influences-it's just meant to have a little fun. Besides, he warns, his next record may just be a set of "avant-garde versions of Swahili folk songs done on homemade instruments."
"Never say never," Heath said.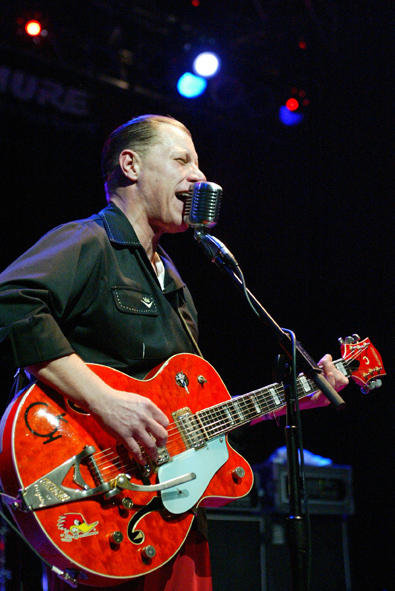 Jim "Reverend Horton" Heath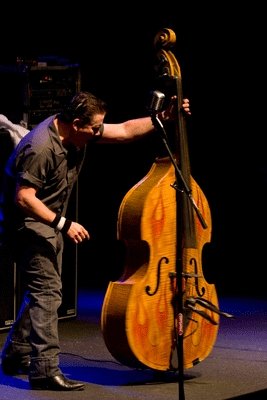 Jimbo Wallace
Paul Simmons
Follow them on Facebook & Twitter! facebook.com/reverendhortonheat – twitter.com/revhortonheat
Check out their official Website: http://www.reverendhortonheat.com
Tour Dates
All dates, venues and opening bands subject to change without prior notice.
Date
City
Venue
Notes / Other Bands
Tickets
06/23/11
London, England
Electric Ballroom
184 Camden High Street
London, England NW1 8QP
N/A
Tickets
06/24/11
Vitoria-Gasteiz, Spain
Recinto Mendizabala

Vitoria-Gasteiz, Spain

AZKENA ROCK FESTIVAL
Tickets
07/1/11
Flagstaff, AZ
Orpheum Theatre
15 West Aspen Avenue
Flagstaff, AZ 86001
Swingin' Utters
Tickets
07/2/11
Irvine, CA
Oak Canyon Ranch
5305 E Santiago Canyon
Irvine, CA 92676
HOOTENANNY
Tickets
07/3/11
Santa Cruz, CA
Catalyst
1011 Pacific Avenue
Santa Cruz, CA 95060
Swingin' Utters
Tickets
07/5/11
Santa Clara, CA
Avalon
777 Lawrence Expressway
Santa Clara, CA 95051
Swingin' Utters, Ghost Town Hangmen
Tickets
07/6/11
Petaluma, CA
Phoenix Theatre
201 Washington Street
Petaluma, CA 94952
Swingin' Utters
Tickets
07/7/11
San Francisco, CA
The Independent
628 Divisadero Street
San Francisco, CA 94117
Swingin' Utters
Tickets
07/8/11
San Francisco, CA
The Independent
628 Divisadero Street
San Francisco, CA 94117
Swingin' Utters
Tickets
07/9/11
San Francisco, CA
The Independent
628 Divisadero Street
San Francisco, CA 94117
Swingin' Utters
Tickets
07/10/11
Sparks, NV
The Alley
906 Victorian Avenue
Sparks, NV 89431
Swingin' Utters
Tickets
07/12/11
Chico, CA
El Rey Theater
230 West 2nd Street
Chico, CA 95928
Swingin' Utters
Tickets
07/13/11
Sacramento, CA
Ace Of Spades
1417 R St
Sacramento, CA 95811
Swingin' Utters
Tickets
07/14/11
Bakersfield, CA
B Ryder's
7701 White Ln # A1
Bakersfield, CA 93309
Swingin' Utters
07/16/11
Tempe, AZ
Marquee Theatre
730 North Mill Avenue
Tempe, AZ 85281
Swingin' Utters
Tickets
07/17/11
Tucson, AZ
Rialto Theatre
318 East Congress Street
Tucson, AZ 85701
Swingin' Utters
Tickets
08/4/11
Fayetteville, AR
Georges Majestic Lounge
519 W. Dickson
Fayetteville, AR 72701
Nashville Pussy
Tickets
08/5/11
Dallas, TX
House Of Blues
2200 North Lamar St
Dallas, TX 75202
Nashville Pussy
Tickets
08/6/11
Houston, TX
House Of Blues
1204 Caroline Street
Houston, TX 77002
Nashville Pussy
Tickets
08/7/11
Corpus Christi, TX
Executive Surf Club
309 North Water Street
Corpus Christi, TX 78401
Nashville Pussy
08/12/11
Salina, KS
The Muse Ballroom
1700 W Beverly Dr
Salina, KS 67401
N/A
08/13/11
Omaha, NE
Lewis & Clark Landing
515 N Riverfront Dr
Omaha, NE 68102
MAHA MUSIC FESTIVAL
Tickets
08/27/11
Portland, OR
Wonder Ballroom
128 N.e. Russell
Portland, OR 97209
Nashville Pussy
Tickets
08/28/11
Richland, WA
Ray's Golden Lion
1353 George Washington Way
Richland, WA 99354
Nashville Pussy
08/30/11
Victoria, BC
Club9one9
919 Douglas Street
Victoria, BC V8W 2C2
Nashville Pussy
08/31/11
Vancouver, BC
Commodore Ballroom
868 Granville Street
Vancouver, BC V6B 2C9
Nashville Pussy
Tickets
09/1/11
Nelson, BC
The Royal
330 Baker Street
Nelson, BC V1L 4H7
Nashville Pussy
Tickets
09/2/11
Grande Prairie, AB
Rock City
11920 100 Street
Grande Prairie, AB T8V 4H5
Nashville Pussy
09/4/11
Whistler, BC
Garfinkel's
4308 Main Street
Whistler, BC V0N 1B4
Nashville Pussy
09/5/11
Seattle, WA
Seattle Center
305 Harrison Street
Seattle, WA 98109
BUMBERSHOOT
Tickets
09/7/11
Eugene, OR
Wow Hall
291 West 8th Ave
Eugene, OR 97401
Nashville Pussy
Tickets
09/8/11
Bend, OR
Domino Room
51 Northwest Greenwood Avenue
Bend, OR 97701
Nashville Pussy
09/9/11
Boise, ID
Knitting Factory
416 South 9th Street
Boise, ID 83702
Nashville Pussy
Tickets
09/10/11
Spokane, WA
Knitting Factory
919 West Sprague Avenue
Spokane, WA 99201
Nashville Pussy
Tickets
09/12/11
Missoula, MT
Wilma Theater
131 South Higgins
Missoula, MT 59802
Nashville Pussy
Tickets
09/13/11
Victor, ID
Knotty Pine
58 South Main Street
Victor, ID 83455
Nashville Pussy
09/14/11
Ketchum, ID
Whiskey Jacques
251 Main Street
Ketchum, ID 83340
Nashville Pussy
09/16/11
Las Vegas, NV
Hard Rock Cafe
3771 S. Las Vegas Blvd
Las Vegas, NV 89109
Nashville Pussy
Tickets
09/17/11
San Diego, CA
4th & B
345 B Street
San Diego, CA 92101
Nashville Pussy
10/14/11
New Orleans, LA
The Hangar
1511 South Rendon Street
New Orleans, LA 70125
Supersuckers, Dan Sartain
Tickets
10/15/11
Birmingham, AL
Zydeco
2001 15th Avenue South
Birmingham, AL 35205
Supersuckers, Dan Sartain
10/16/11
Mobile, AL
Soul Kitchen Music Hall
219 Dauphin Street
Mobile, AL 36602
Supersuckers, Dan Sartain
10/17/11
Jacksonville Beach, FL
Freebird Live
200 1st Street North
Jacksonville Beach, FL 32250
Supersuckers, Dan Sartain
Tickets
10/20/11
Fort Lauderdale, FL
Culture Room
3045 North Federal Highway
Fort Lauderdale, FL 33306
Supersuckers, Dan Sartain
10/21/11
St. Petersburg, FL
State Theatre Concerts
687 Central Avenue
St. Petersburg, FL 33701
Supersuckers, Dan Sartain
10/22/11
Orlando, FL
Firestone Live
578 North Orange Avenue
Orlando, FL 32801
Supersuckers, Dan Sartain
Tickets
10/23/11
Charleston, SC
Music Farm
32 Ann St
Charleston, SC 29403
Supersuckers, Dan Sartain
10/26/11
Greenville, SC
Handlebar
304 East Stone Avenue
Greenville, SC 29609
Supersuckers, Dan Sartain
Tickets
10/27/11
Atlanta, GA
Masquerade
695 North Ave Northeast
Atlanta, GA 30308
Supersuckers, Dan Sartain
Tickets
10/28/11
Charlotte, NC
Visulite Theatre
1615 Elizabeth Avenue
Charlotte, NC 28204
Supersuckers, Dan Sartain
10/29/11
Carrboro, NC
Cat's Cradle
300 East Main Street
Carrboro, NC 27510
Supersuckers, Dan Sartain
Tickets
10/30/11
Fayetteville, NC
The Rock Shop Musical Hall
128 South King St.
Fayetteville, NC 28301
Supersuckers, Dan Sartain
11/5/11
Memphis, TN
Young Avenue Deli
2119 Young Avenue
Memphis, TN 38104
Supersuckers, Dan Sartain

For more info please visit ReviewedChoice.com.

This entry was posted on Tuesday, June 21st, 2011 at 12:17 am. It is filed under everything else, music, what's happening and tagged with beer, classic, country, cowboy, culture, Deadbeat, honky tonk, hot rod, kulture, lone star, music, musical icon, psycho, psychobilly, punkabilly, rat rod, Reverend Horton Heat, rock-n-roll, rockabilly, rockabilly music, surf, texas, upright bass, vintage. You can follow any responses to this entry through the RSS 2.0 feed.