Joey Anchors Photography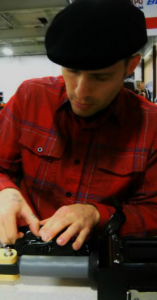 Joe has admired old cars since his youth, getting into custom cars and hot rods, constantly daydreaming about that perfect hot rod he would someday own. In his late teens, he started playing bass, joining a band, recording, and touring across North America. 15 years later, after giving music his all, he decided it was time to leave the road and studio and return to his first love–cars–but this time with a twist. While on the road, he picked up his first camera, which was an antique itself: a 1953 Argus C3.
He used the C3 when he went to all the car and motorcycle shows that he could, shooting with film in black and white as a way to use traditional techniques to show custom car and hot rods in a more artistic light. Today, he focuses on the art that goes into building a great custom car or motorcycle with his love of fine art B&W film photography, frequently shooting the unique details of the masterfully executed cars and motorcycles. He exclusively uses cameras from the late 1940's to early 1950's and develops in a traditional darkroom. The latest addition to his camera collection is a 1949 Graflex Century Graphic 2×3 "Press Camera," which provides much sharper and detailed images.
Find his work here: joe-hagins.wix.com/joey-anchors-photography
Find him on Facebook: http://www.facebook.com/joey.hagins.5