Garrettero Kustom Photography & Art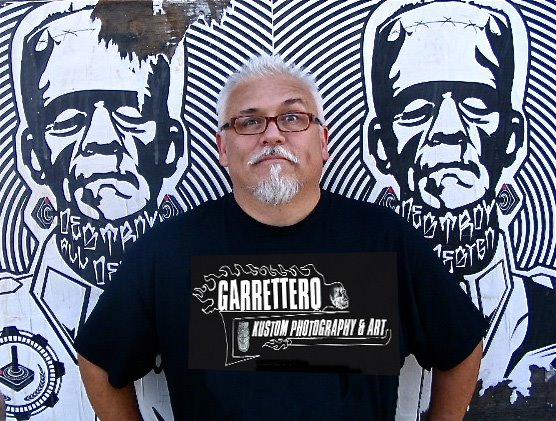 This week we have the talented Bill Garrett of Garrettero Kustom Photography & Art as our feature artist/photographer. Bill's photography has a nice perspective and a great angle that draws you right into his photos. We like his style and hope you agree! Check out his work below.
I've had a passion for photography & art since I was in grade school and have always been up to something creative for my own enjoyment. With a growing appreciation of classic cars/hot rods/customs/lowriders as works of art, I finally started photographing them two years ago —it's been an obsession ever since! I created my blog, Garrettero Kustom Photography & Art, a year later primarily covering car shows and have expanded my photo-realm to include car "Kulture" coolness, like shooting pin-ups, bands and profiling artists. This was the plan from the beginning, a natural path given my love for retro-kitsch, tiki, Day of the Dead & lowbrow art, the female figure, reverb, distortion, beer and whisky…(not necessarily in that order). It's been fun and I've made a lot of new friends.
I'm a contributor to the car web-magazine, MyRideIsMe.com and the Australian car mag, Street Machine, has published some of my Viva Las Vegas 14 Rockabilly Car Show photos this year. I do private shoots and currently have a few in the planning stages. Also, I'll continue to photograph as many car shows as I can possibly attend.
I do not yet own a classic car — when money does come in it's going toward much needed camera equipment…then, finally a ride…and that can't happen soon enough.
See Bill's work here:
Garrettero Kustom Photography & Art: garrettero.blogspot.com
Facebook: facebook.com/profile.php?id=100000190106175